Beyoncé just shut down the 2016 VMAs with a surprise 'Lemonade' medley performance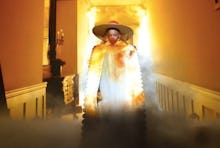 The 2016 MTV Video Music Awards should have just been named the Beyoncé and Friends show. Between being nominated for 11 awards — the most noms she's ever earned in a single year — and her iconic surprise medley performance of Lemonade, Bey came to slay. And slay she did. 
Tennis player Serena Williams, who starred in Beyoncé's "Sorry" music video, introduced Queen Bey for her performance, who appeared on a smoke filling the stage as a recording of the opening poem from Lemonade started playing.
Bey began with "Pray You Catch Me," the first track from her latest album. Her dancers of all colors, each adorned with braids, slowly appeared onstage before falling to the ground as if hit by gunshots. Upon their falling, their spotlights switched to red, continuing to shine down onto their bodies as they lay prone.
After slowly walking away from a hooded figure, Bey transitioned into "Hold Up," quick changing into a black outfit and unleashing her iconic fan-blown hair, which has become a staple of any solid Bey performance. With bat in hand she repeated her snarling attack on the camera in Lemonade breaking the VMAs' camera lens.
The performance just continued to get even more lit as it went on, as fire literally surrounded the singer following her performance of "Don't Hurt Yourself." 
Beyoncé then moved straight from that into the Lemonade's lead single, "Formation." The queen recreated the choreography from her iconic Super Bowl 50 performance, this time with each of her dancers wearing the black-rimmed hat she's been rocking across the Formation World Tour. 
The incredible performance ended with a Yoncé mic drop and all her dancers lying down arranged in a female symbol. The superstar stood and soaked in the applause for over a minute before walking offstage, leaving the show's audiences and hosts truly shook. 
With those awe-inspiring 15 minutes, epitomizing everything that is black excellence, Beyoncé made it known exactly why she holds the crown as the most awarded artist in VMA history.
Watch video of the queen's full performance below:
Aug. 29, 2016, 9:38 a.m.: This post has been updated.