Kanye West drops epically weird "Fade" video featuring Teyana Taylor during 2016 MTV VMAs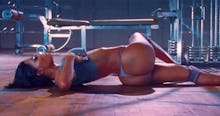 Following an eclectic speech that spanned artistry, Steve Jobs and his wife, Kim Kardashian West, Kanye West debuted the music video of "Fade" at the 2016 MTV Video Music Awards.
The video features artist Teyana Taylor during a sweaty, sensual dance in a gym. Towards the end though, it veers into unfathomably strange territory, ending with Taylor showering off and posing leaned against NBA player Iman Shumpert with an anthropomorphized cat face.
Naturally, "Fade" took the Twitterverse by storm, with many questioning what on Earth they just witnessed. 
Watch the video for "Fade," available on Tidal, below: