Beyoncé and Blue Ivy took a pre-VMAs photo — and people called Blue Ivy ugly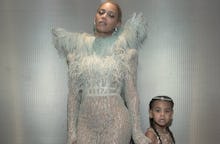 Prior to delivering an epic, history-making performance on the VMAs stage, Beyoncé took a minute to share a snap of her and her daughter, Blue Ivy Carter, with the world. 
Unfortunately, several people in the comment decided to share negative opinions of Beyoncé's daughter. Several called the little girl ugly — in more than one language. 
"She looks like a little boy. Sorry not sorry," wrote one commenter. "Feel bad for her growing up with parents like that." 
"Nah that child look just like her daddy and we all know he not cute," another said. 
"Que hija mas fea por dios, cualquiera diria que es hija de Beyoncé," wrote one woman in Spanish. In English, she said Blue Ivy is the ugliest, and that you wouldn't think she was Beyoncé's daughter. 
Another wrote, "Que niña tan fea," meaning, "What an ugly little girl."
Several commenters clapped back, wondering how people could talk so negatively about a little girl. 
"You people wonder why celebrities keep their kids off social media," one commenter wrote. "She's a baby and people are calling her ugly. SMH. She is beautiful."
"You will also soon have kids," another person wrote. "What goes around comes around." 
This isn't the first time internet harassers have came for Blue Ivy. When Blue starred in her mother's video for "Formation," people made negative comments about her natural hair style. 
Blue Ivy is already learning the many perils that come with being black and female on the internet. In the past month alone, Olympian Gabby Douglas had to deal with people making comments about her hair. Most recently, hackers leaked nude photos and private information online about comedian Leslie Jones.
August 30, 2016, 11:39 p.m.: This story has been updated.