Drake declared his love for Rihanna at the VMAs and everyone's hearts exploded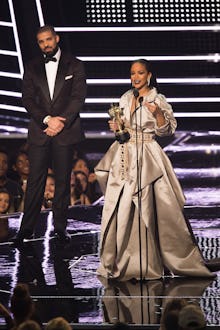 Sunday night, Rihanna was honored with the video vanguard award at the 2016 MTV Video Music Awards. Not only did she receive accolades for her performances and daring music videos, she got rapper Drake (who may or may not be her boyfriend) to declare his love for her on national television. 
While presenting Rihanna with her award, Drake could not stop gushing over her and reminiscing about the first time he met her at a diner in Toronto 11 years ago. "She is someone I have been in love with since I was 22 years old," he said to cheers from the audience.
Twitter users watching almost couldn't handle how smitten Drake was with Rihanna. Many wondered where they could find a man like him.
While many melted over Drake's stunt, others weren't so impressed.
It does seem like Drake and Rihanna have been nurturing some real chemistry for years. Will Drake's public display of affection for Rihanna finally be enough? Who's to say? But it sure makes for great television.