Justin Bieber is back on Instagram, so everyone can finally relax now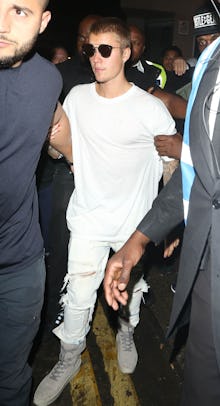 Recently, you may have sensed something was slightly off-kilter or out of whack, like the Earth might be rotating just a few degrees off its axis. But rest assured that, as of Monday, order has been restored: After a two week hiatus, Justin Bieber is back on Instagram. 
The singer deactivated his account on Aug. 16, following an extremely public feud with ex-girlfriend Selena Gomez, who called Bieber out when he got into hot water with "Jelena" loyalists for posting photos of his alleged new paramour.
"If you can't handle the hate then stop posting pictures of your girlfriend lol — it should be special between you two only," Gomez commented at the time. "Don't be mad at your fans. They love you. They were there for you before anyone."
Bieber shot back, accusing "people" (read: Gomez) of using him for attention while still trying to send the blame his way. "Sad," wrote Bieber. "All love."
After the verbal sparring match, most Twitter users agreed Gomez had come out on top — and when Bieber made good on his promise to make his account private, the internet was pretty resigned, if not thrilled at the news, using the hashtags #SelenaEndedJustinParty and #JustinDeactivatedParty.
But because Twitter users are fickle and time is a flat circle, when Bieber reactivated his account on Monday, Twitter celebrated with #JustinReactivatedParty.
So, for now, we're back to square one. And everything is right with the world.