"You Are Not Defined by Your Hair" campaign offers tutorials for breast cancer survivors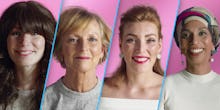 For many women battling cancer, one of the hardest aspects of their diagnosis, beyond the waiting, the telling family and friends or the sky-high bills, is a sense of losing oneself. This feeling is perhaps most apparent in the hair loss associated with chemotherapy. 
"Losing my hair was almost worse than hearing that I had cancer," one woman remarked in the essay, "I Couldn't Stand the Thought of Losing My Hair." And this is not a terribly uncommon sentiment.
Fortunately, the UK-based Good Hair Day — which has already raised $10 million for breast cancer charities across the globe — has teamed up with Breast Cancer Now for a series of hair tutorial videos in an effort to help aide women with treatment-related hair loss.
In the campaign titled "You Are Not Defined By Your Hair," a select group of women both diagnosed and living with breast cancer are shown tips for how to style themselves.
"Having worked in the breast cancer field for over 15 years I have witnessed the difficulties patients face," Denise Flett, a breast clinical nurse specialist who worked on the campaign, said in a statement. "Often the most significant anxiety regarding treatment is loss of hair. A resource that can offer practical and expert tips in an empowering way is something [I] would direct patients and colleagues to."
Wig hacks
"I know that people who are not ill think that we wouldn't want to bother, that we are too ill to think about looking and feeling good," said Helen Weller, who was diagnosed with breast cancer in 2014 after discovering a lump in her armpit. "But no matter how ill you get, you just want to look 'normal', to say, 'I can look good,' even when everything inside is falling apart."
How to style a headscarf
"Appearance is something I've definitely struggled with over the years," said Indira Jayasuriya, who is currently undergoing treatment for secondary breast cancer. "I just couldn't get on with wigs so learning more about head scarves has been fantastic." 
Brows and eyes
"During treatment for breast cancer you are going through so, so much and you have all these different things to think and worry about," said Alex Jones, who, like Jayasuriya, is currently undergoing treatment for secondary breast cancer. "Having access to tutorials, in the comfort of your own home, offering hints and tips to help you feel like 'you' can help alleviate anxieties about appearance, and helps to rebuild confidence step by step."
Styling from six months on
"Toughest of all to cope with was the return of my hair after chemo," said Sue Stannard who was diagnosed with a type of breast cancer called invasive ductal carcinoma. She continues:
I had had very little grey hair pre-treatment but my hair regrew completely grey – which I've since learned happens to many women in this situation. It is also normal for regrowth to be a bit coarse and curly, and over the months as my hair got a bit longer it began to resemble something between a thistle and a loo-brush! I'm now a few years on from the initial regrowth stages, and learning how to manage and look after my 'new' hair over this time has been very important to me.
To learn more about the campaign, and check out the complete video series, click here.