In one map, here are the states that will vote on the minimum wage in November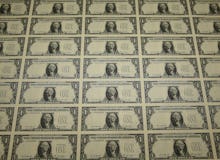 Several states could give millions of Americans a pay raise if minimum wage increases across the country are approved by voters this fall. The state-level wage fight is a symptom of disagreement in Washington about whether low-income Americans should be paid more.
Twenty-nine states and the District of Columbia already have minimum wages above the federal standard of $7.25. President Barack Obama has advocated the federal minimum wage increase to $10.10 for years. Bernie Sanders called for a $15 minimum wage on the campaign trail, a position Hillary Clinton has vaguely echoed. Donald Trump — though inconsistent in his position — has also called for a minimum wage increase.
But the Republican Congress has not moved to raise the wage. This has led liberal cities like Seattle and New York City to put themselves on a path to reach $15 an hour. California recently passed a statewide increase that will move the world's sixth-largest economy to a $15 minimum wage over six years. And in January 2016, Walmart said it would increase its minimum wage to at least $10 per hour
Here, via the National Conference of State Legislatures, are the states that will vote to increase their minimum wage this November and where minimum wage stands in other states: 
A few minimum wage facts
The federal standard does not apply to everyone. In Georgia, workers not covered by the federal minimum wage earn $5.15-an-hour. That's $206 before taxes per 40-hour work week.
The value of the minimum wage has dropped substantially overtime. The average college student would need to work nearly 50 hours a week to pay for their education. $7.25-an-hour comes out to about $15,000 before taxes — if someone works 40 hours a week for every week of the year. In most big cities, that's nowhere near enough to cover rent costs.