Twitter roasts #AmnestyDon as Donald Trump continues to waffle on immigration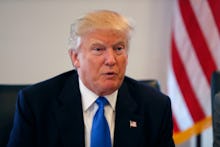 Donald Trump woke up Monday morning to a deluge of tweets using the #AmnestyDon hashtag, mocking the Republican presidential nominee's muddled immigration plan.
The hashtag was launched by Joe Scarborough, host of MSNBC's Morning Joe, who mocked Trump's reported "softening" immigration stance.
"For 14 months, Amnesty Don has been putting illegal immigration at the center of Amnesty Don's campaign," Scarborough said, repeatedly uttering the moniker.
Trump has previously vowed to deport the estimated 11 million undocumented immigrants in the U.S. — including nonviolent offenders who have been in the United States for decades — saying that allowing those people to stay amounted to "amnesty."
However, in a town hall hosted by Fox News' Sean Hannity on Aug. 24, Trump appeared to show an openness to allowing those otherwise law-abiding undocumented immigrants to stay, saying it would be challenging to remove them at once. That tone shifted back two days later, after heavy blowback from all sides of the immigration debate charged Trump with adopting "amnesty" — a policy Trump's most fervent supporters are vehemently against.
Twitter latched on to the new nickname, catapulting the #AmnestyDon hashtag to the No. 1 trending topic at one point.
The tweets mocking #AmnestyDon were relentless.
They came from anti-Trump Republicans, who are outraged that Trump attacked his fellow GOP opponents for supporting amnesty in the primaries, before appearing to immediately shift to the same position himself as the Republican nominee.
Many of the tweets came from Twitter accounts with a liberal bent, who were basking in schadenfreude.
But no one appeared to enjoy the fact that #AmnestyDon was trending more than Scarborough himself. On Aug. 22, Trump threatened to expose the "real story" about the relationship between Scarborough and his Morning Joe co-host, Mika Brzezinski.
Trump will deliver a speech Wednesday in Arizona to detail his policy on immigration.