Americans have terrible taste in coffee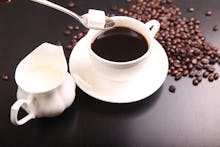 Stop spending your cash on gourmet coffee — one experiment suggests your taste buds probably prefer inexpensive deli coffee anyway. 
In an August 22 Today segment, host Jeff Rosen set up a blind coffee taste test in a New Jersey mall. One-dollar cups of deli coffee went head-to-head with fancy, $3.25 gourmet coffee.
The result: Roughly 67% of the people surveyed preferred the deli coffee in the blind taste test. And it wasn't just New Jerseyans that had cheap taste — even Today hosts Al Roker, Savannah Guthrie and Matt Lauer were stumped by the blind test. All three preferred the cheap stuff over gourmet. 
"It was very bitter," Lauer said of the gourmet coffee. 
Why did people have such cheap tastes? Psychology might have something to do with it. Research shows that higher prices make people rate the quality of food higher, the Huffington Post reported. Customers use price as a guide when they are evaluating a meal, researchers noted.  
Think of all the money you could save if you started drinking office coffee, or if you switched to deli coffee instead of frequenting your favorite hipster cafe. 
Millennials spend roughly $80 a month on coffee. That adds up to over a thousand dollars each year. 
Drop the pretensions and that $4 latte habit — odds are your taste buds prefer that cheap shit anyway. 
And hey, maybe a cheap coffee brand like Folgers will emerge as the PBR of coffee for certain anti-normative hipsters. Here's to hoping!