At the MTV VMAs, Drake revealed the moment he first fell in love with Rihanna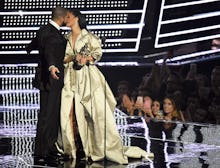 The power of Drake's undying love for Rihanna is matched only by Rihanna's undying tendency to skillfully reject his subtle advances in public. Case in point: At the MTV Video Music Awards Sunday night, Drake confessed his devotion again — and she evaded his attempt at another kiss.
Sound familiar? This delightful phenomenon was captured on camera at a Rihanna concert earlier this year.
Drake's perpetual boner for Rihanna has fueled myriad music video collaborations between the two of them, from "What's My Name?" to "Take Care" to "Work" — all of which seem to point to the conclusion that Rihanna is simply "too glorious for Drake to handle."
But did you ever stop to wonder what the origin story is behind Drake's feelings for Rihanna? When and where did love first strike young Aubrey Graham?
Well, now we know. Drake answered all of these questions and more as he introduced her with the Video Vanguard Award Sunday night.
"The first time I met Robyn Fenty was 2005," Drake began. Perhaps he imagined Rihanna as his wife and the 18,200-member Madison Square Garden audience as their grandchildren. "She was shooting a music video at a restaurant called Avocado in Toronto. The song was 'Pon de Replay' and the director of that video was Little X. I was introduced to her as a kid who played background music at the restaurant as people ate their dinner."
Weird that he was introduced to her as nameless dinnertime entertainment and not as Jimmy Brooks of Degrassi fame, but fine.
"Today, the world knows Little X as Director X, they know me as Drake and not the kid singing while you order pasta," Drake continued. "But 11 years later, they still all know Rihanna as the one and only Rihanna."
After running through some of Rih's professional accomplishments and the reasons behind her success, Drake wrapped up with a formal declaration of his love to her — which we now know began all the way back in 2005 at a Toronto restaurant called Avocado.
"She's someone I've been in love with since I was 22 years old," he said. "She's one of my best friends in the world. All my adult life I've looked up to her even though she's younger than me. She's a living, breathing legend in our industry."
Later that night, he posted a photo on Instagram of himself kissing Rihanna, and Rihanna kissing what appears to be a wine glass. 
Unrequited (but possibly requited-after-all) love goals!
You can watch Drake's full speech below: