The All Woman Project aims to show what real diversity in fashion looks like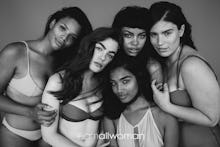 Diversity in fashion is a slow-moving beast. Every year, more and more models of color, models who aren't, say, a size 2 and models who aren't cisgender are cast in runway shows and ad campaigns. More models who don't fit into the blonde, waif aesthetic are being seen, and to some that's not a coincidence, but a concerted effort.
For example, there have been runways that have actively tried to change these numbers, like Kanye West, who cast all people of color of his Yeezy Season 3 presentation, or Chromat, a label that regularly casts models of various different sizes and abilities. Then there are brands like Aerie and Lonely Lingerie that are going without airbrushing and casting models with various different body times. 
Now, two models who don't necessarily fit the model norm, Clementine Desseaux and Charli Howard, have come together to make sure that diversity isn't just seen as a passing fad. Their joint project, called the All Woman Project, aims to illuminate the idea that not all women are the same, and shine a light on a few of the women out there who are expanding the fashion industry's definition of beauty. 
"We just want all girls to look at their bodies and realize that there's nothing wrong with them," Desseaux said in an interview. "Just because you're a model doesn't mean you're exempt from cellulite, and that goes for the other way around too. Nothing is impossible because of your body." 
To prove that point, Desseaux and Howard wanted to round up just the right group of women women to star in a campaign that aims to show brands and designers alike that this is what it would look like if diversity was taken seriously. 
"It's basically an ad campaign for no brand but promoting women," Desseaux said. "So it's like a campaign we'd dream of being featured in, but no brand would ever do. It's just like a big 'hello' to the industry. We exist. We're beautiful." 
In order to find the right women for this campaign, Desseaux and Howard started by looking at their circle of model friends who are vocal body positivity advocates, and went from there. 
"We thought, 'who are all the women in the main industries right now who are talking about diversity and taking action and talking about it frequently?'" Desseaux said. "From there, we kept on brainstorming and researching and we found out that we have so many women around us talking about diversity that were interested in being involved in this project." 
The names they came up with were models Barbie Ferreira, who's worked with Aerie, Denise Bidot, Iskra Lawrence, Shivani Persad, Elliott Sailors, a gender-fluid model, Victoria Brito, Kamie Crawford and Brooklyn rapper Leaf. 
And in a rather stunning new video introducing the project, those women smile and dance about while exclaiming things like, "It's time that women start empowering each other, getting together and celebrating diversity." 
In addition to the campaign and video, the All Woman Project also encourages women to tag pictures and videos of themselves on clapit, Instagram and Twitter with the hashtag #IAmAllWoman to help spread the movement. 
The reason why Desseaux and Howard are so passionate about diversity in the fashion industry is because both had to move from their home countries in order to find their way into the industry due to their body types. According to Desseaux, who lived in France, and Howard, who lived in England, America is the place where models and and other women who do break the norm are more celebrated, seen and heard. 
According to numbers alone during fashion weeks, that's certainly true. Although New York Fashion Week still casts a majority of white models, 31.9% were models of color last season. Compare that to London's 19.9% and Milan's 19.7%. And as far as plus-size models go, four walked in NYFW, while two walked in Paris and zero walked in Milan and London. 
"America is a lot more forward-thinking when it comes to embracing body shapes and things like diversity," said Howard, who's now been modeling for four years. 
Prior to this project together, the two first met up in November and found that they had nearly identical ideas for a project that could celebrate women of different shapes and sizes.  
"We met up for coffee and had lunch and we both said how we wanted to make a diversity video," Howard said. "Every idea that we had, aesthetically for the video, the types of people — it was all exactly the same. We wanted a video that is relatable and approachable, but also highlights fashion." 
And, as it so happens, shows the fashion industry and the world what a truly diverse campaign looks like. 
For both models, the ultimate goal here is to set a new standard, or even a new norm, that women don't have to conform to one ideal or another to succeed. And hopefully, the message would be directed towards this new generation of women, which is represented in the video by Denise Bidot's own daughter, Jocelyn.
"We're really excited at the next generation of girls growing up with really big dreams and really big confidence," Desseaux said. "That's where we wanna go. Denise's daughter is so young and she has 100% confidence. She's amazing. She can do it all. So it's really great to see the generational change." 
But before that change can take place, it's important for the fashion industry to finally understand that representation and diversity isn't just a passing fad. According to Desseaux and Howard, it's no mistake that the campaign is being launched exactly one week before New York Fashion Week. 
"We decided to launch right before fashion week because September is like the least diverse month of the year," Desseaux said. "So it's to show that diversity is important and that it shouldn't be forgotten." 
"It's always a good time to talk about diversity," Howard concluded. "We've seen women in quite a negative light in the media, and now it's very much about being real and speaking out and being opinionated." 
And that's exactly what these two women are trying to do now. 
You can watch the campaign's video below: