Hillary Clinton's new health care proposal focuses on the millions battling mental illness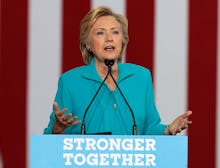 Hillary Clinton rolled out a new mental health care plan Monday that would combine the mental health care system with the physical health care system — a proposal her campaign says focuses on treating the millions of Americans suffering from mental illness.
"Her goal is that within her time in office, Americans will no longer separate mental health from physical health when it comes to access to care or quality of treatment," Clinton's campaign said in a news release.
Clinton's campaign says integrating mental health and physical health treatment will not help Americans battling mental health issues receive better care, but will also "promote early diagnosis and intervention" for those battling serious depression and suicidal thoughts.
"She also believes we must redouble our efforts around early screening and intervention — and that means training pediatricians, teachers, school counselors, and other service providers throughout the public health system, to identify mental health problems at an early age and recommend appropriate support," Clinton's campaign said in a press release.
According to the Associated Press, nearly 44 million adults in the U.S. suffered from mental illness in 2014 — a statistic that amounts to one in five adults over the age of 18.
The AP also reported that one in five college students currently battle mental illness.
Clinton directly addresses those college students in her plan, saying she will "encourage every college to put in place preventive services, comprehensive treatment and coverage of services, and an interdisciplinary team ... to oversee the campus's mental health policies and programming."
The release of Clinton's plan comes shortly after Donald Trump's campaign accused her of focusing on Trump, rather than on issues that would help Americans.
"It's the oldest play in the Democratic playbook," Trump said in a speech last week of Clinton's speech tying him to the alt-right. "When Democratic policies fail, they are left with only this one tired argument. It's the last refuge of the discredited politician."