Will there be a 'Luther' season 5? Idris Elba hints at "big chance" of return.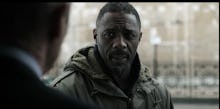 Sadly, Idris Elba might not be the next James Bond, but he also might not be done being a badass British detective, either. As rumors have continued to swirl over a potential fifth season of Elba's hit BBC crime series, Luther, the actor took to Twitter on Sunday for a promising proclamation: There's a "big chance" we'll be seeing a fifth season at some point in the future. 
This is far from Elba's first tease for the series — where he plays the titular character — either. During a 2015 Reddit Ask Me Anything, Elba said that the main focus for a Luther return would be in a film adaptation after a shortened, two-episode fourth season. 
But a Luther delay would also make sense, given Elba's busying career on the big screen lately. Earlier this summer, the actor appeared in Star Trek Beyond as its main villain, Krall. He will also return to the Marvel Cinematic Universe in Thor: Ragnarok, and has a lead role in the film adaptation of Stephen King's Dark Tower series. 
However, despite his busy schedule, Elba's repeated praise of the BBC series is a promising sign for its future. 
"The great thing about Luther is that you never know what may or may not happen next," Elba told the Hollywood Reporter in June. "I think that's part of its appeal. Each season feels like a capsule, but then you feel like, 'Oh, it's got to come back.' I will say that there has certainly been some thought about what to do next ... if anything."