Pretoria Girls High School students are protesting racist hair policy, code of conduct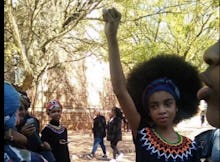 At Pretoria Girls High School in Pretoria, South Africa, students have been protesting a code of conduct that places strict restrictions on how girls can wear their hair to school:
"Cornrows, natural dreadlocks and singles/braids (with or without extensions) are allowed, provided they are a maximum of 10mm in diameter. Singles/braids must be the same length and be the natural color of the girl's hair. Braids shorter than collar length must be kept off the face with a plain navy or tortoise shell alice band. Longer braids must be tied back. No beads or decorations in the hair. No styles allowed. Cornrows must run parallel from each other from the forehead to the nape of the neck. No patterned cornrows.
While the code doesn't specifically mention "afros," students say they have repeatedly been told to straighten their hair because it is "untidy," BBC reports.
#StopRacismAtPretoriaGirlsHigh is full of protest images and tweets in support of the young girls — and boys — who are speaking out against their school's administrators. 
One student in particular, Zulaikha Patel, appears to be one of the youngest to take a stand. The Daily Vox, a news site in South Africa, reports that she is just 13 and has fought against these types of policies before.
Students have also complained that they are not allowed to speak to other students in their own languages.
The school has refused to comment, but Panyaza Lesufi, education minister for Gauteng province, plans to visit the school on Monday. Nathi Mthethwa, Arts and Culture Minister of South Africa, tweeted in support of the protest.
More than 18,000 people have signed this petition to stop racism at Pretoria Girl High.