11 vegetarian slow cooker recipes that prove the Crock-Pot is for way more than meat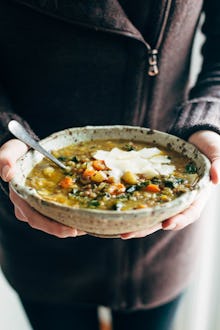 When did slow cooking become so cool? The once-dowdy homemaker's accessory has recently seen a resurgence on social media as the coolest thing to cook with since the microwave. 
Maybe it's because it's so easy to use and pretty much impossible to mess up any recipe, or perhaps because it saves you time with meal prep and lets you actually live your life while your dinner basically cooks itself, but the slow cooker is seriously back in style. While chicken and ground beef seem to dominate the slow cooker landscape, here are some excellent vegetarian slow cooker recipes. 
This soup packed with veggies and grains is the perfect lunch or dinner on a cold day. The recipe makes eight servings with little prep, so your veggie meals are pretty much set for the week.
Coconut milk adds the creaminess to this "blissful" soup that smells like fall and takes the pain out of cooking a whole squash.
Five minutes of prep followed by five hours of hands-off creates this fragrant tofu dish. Turn on your rice cooker just before you're ready to eat for a bowl full of vegetarian goodness.
All the tasty gooeyness of homemade mac and cheese with less work than making a box of Kraft? Yes, please!
At the base of countless vegetarian dishes is vegetable stock. Save money and let your own stock — made mostly from leftover vegetable scraps — cook itself in a slow cooker while you relax.
Reset your weekly diet by simmering this soup on Monday morning and coming home to a week's worth of hearty clean eating.
Slow cooking can get a bad rap for creating flavorless mush. Luckily, lentils hold their shape after hours of cooking and the seasonings in this dish make it anything but boring. Serve over a different grain each night for a fresh meal.
If you're not in the mood to wait all day for your Crock-Pot to cook your meal, make things cheesy (and classy) with a quick fondue. The Crock-Pot keeps it warm while you dip in whatever you dream to be covered in cheese.
Your slow cooker just became your new Italian nonna. Let this sauce simmer for 7-8 hours while you're living your daily life and just boil pasta when you're ready to chow down on some seriously good marinara.
Making a traditional baked lasagna is such a pain in the you-know-what. Unless you have a solid group of Italian kitchen helpers assisting with your noodle stacking, just throw all your lasagna ingredients in a slow cooker for the flavors of lasagna without all the hassle.
A riff on the Thai dessert mango sticky rice, this whole grain breakfast cooks while you snooze and is ready to be topped with fresh (or frozen) fruit if you synchronize the cook time with your alarm clock.