One version of the iPhone 7 could have these cool new features, evidence suggests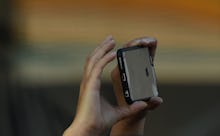 We're getting a better idea of the the iPhone 7 and iPhone 7 Plus's features every day. With Apple expected to announce a release date in just over a week, most of the device's new features have already been leaked. These new components will remain speculation until Apple confirms them, but third-party companies are doing their best to spoil the big "surprise."
Spigen, an established smartphone case designer, recently put its iPhone 7 and iPhone 7 Plus case collection on sale for pre-order. At this point we aren't sure how many iPhones will be released this year or what they'll be called. We have some suspicions, though.
The accompanying images all but confirm two things:
No headphone jack: Apple dropping the headphone jack was one of the earliest iPhone 7 rumors, but they're called rumors for a reason. From the photo you can see the traditional 3.5 mm headphone jack is missing. It looks like it will be replaced by Apple's Lightning audio port.
Dual lens camera: The extra lens on the iPhone 7 Plus's camera would provide improved optics for those who decide to invest in Apple's Plus model. For those criticizing Apple for playing it safe with this year's design, this is a strong selling point.
Apple doesn't seem to be ready to outfit all of its devices with the dual lens camera. Besides screen size, this seems to be the key distinction between the iPhone 7 and the Plus.
It's also interesting to note that Spigen, despite the early pre-orders, will not ship these cases until October. Apple is widely expected to unveil the iPhone 7 on Sept. 7 and release the phones on either Sept. 16 or Sept. 23. One would think that with a head start on pre-orders, Spigen could ship these cases sooner. 
This doesn't necessarily mean the iPhone 7 will be delayed for another month, but it's worth keeping an eye on.