We found out why ASOS is selling those bizarre strap-on animal tails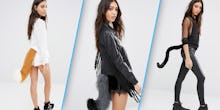 Online retailer ASOS has a little something for everyone. They've got nearly 100 platform sandals, dresses stitched with cat faces, denim overalls, even dinosaur tales. 
Wait, what? 
No, you really did read that right. ASOS is selling strap-on animal tails — and apparently they're a big hit. Over the weekend, Cosmopolitan reported that the brown dinosaur tail, which is manufactured by the brand Tell Tails, had sold out. So now, ASOS shoppers just have five different Tell Tails tails to choose from. 
First, there's the shiny green "Shinosaur Tail."
"Get your waggle on with Tell Tails' wearable tails," the product's description says. "On a mission to unleash your inner animal, Tell Tails' designs are either stuffed 'swooshers' or bendable to fit your mood. Become a leopard, cunning fox or dancefloor-approved 'Shinosaur.'"
And indeed, you can also be a leopard or a fox. 
Or, alternatively, you can be a wolf or a cat. 
The question you may be asking is "Why?" And to try to answer that question, Mic reached out to ASOS directly.
"Novelty is featuring more and more in our 20-something customers' lives," an ASOS spokesperson said in an interview. "They love humorous pieces that create Snap-able moments for their social channels and are also fun for festivals. It is always our priority to know what our customers are loving and ensure we have the right product for that moment." 
So, the tails are merely a nostalgia piece, like Silly Putty or Tamagotchis, that are meant to be shared via things like Snapchat and Instagram. Nothing too serious here, which is just fine since people on Twitter have been making jokes about the tails for days now.
But as ASOS mentioned too, the tails are becoming, quite strangely, a part of festival culture as well. 
For reasons that we ourselves would not like to know, it's now cool at music festivals to wear an animal tail under your clothes, like, so it sticks out the back and makes it look look like you, presumably a human being, have an animal tail. 
According to Tell Tails's website, wearing a tail is an "exercise of silliness," so it only makes sense that festivals are now attracting the kind of person who wants to wear an animal tail for no other reason than they think it looks cool.
"Here at Tell Tails, we think that festival party lovers are just that little more fun and experimental," the website reads. "We have partying deeply engrained into our souls and we never hit the dance floor without a furry festival tail by our side ... and it turns out we are not alone! ... With a swish and a shimmy, you and your festival tail unite to form the ultimate dancing king or queen." 
So we guess people like wearing them too because it makes their dancing more ... interesting or ... festive? 
The tails come just a few months after ASOS puzzled its shoppers by selling a seemingly impossible piece of lingerie and incredibly long jeans. But anyway, if you're looking for a strap-on animal tail, now you know where to get one.