The US just welcomed its 10,000th Syrian refugee — whether Trump likes it or not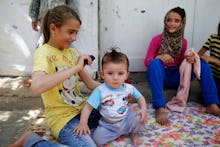 On Sunday, United States ambassador to Jordan Alice Wells announced that on Monday the U.S. would welcome its 10,000th Syrian refugee as part of the country's yearlong resettlement program.
According to the Associated Press, "several hundred" Syrians are set to arrive from Jordan after passing a routine screening process.
At a press conference in September, White House spokesman Josh Earnest told reporters while, at the time, the U.S. was slated to receive just 1,500 refugees, President Barack Obama had decided to increase the number.
"He's informed his team that he would like them to accept at least, in preparations to accept, at least 10,000 Syrian refugees in the next fiscal year," Earnest said at the time. "We know the scale of this problem. It's significant."
The war in Syria has forced 4.8 million refugees to flee to Turkey, Lebanon, Jordan, Egypt, Iraq, and sent 25,000 to Canada and more than 57,000 to Greece. A recent photo of bloodied 5-year-old Omran Daqneesh put a face to the ongoing crisis.
It's a crisis that Republican presidential candidate Donald Trump has said he's not interested in helping to fix. 
"I can look at their faces and say, 'You can't come here,'" Trump said in February, referring to refugee children. "We don't know where their parents come from, they have no documentation — they have no documentation whatsoever."
He continued to speculate that incoming refugees "may be ISIS" or "ISIS-related."
But earlier this month, CNN's senior international correspondent Clarissa Ward couldn't emphasize more how pressing the crisis truly is.
"This is what hell feels like, and there is no way it can get any worse than this," she said, recounting her experiences covering the Syrian war in 2012. "But it did. It got a lot worse. Much worse."