11 healthy ramen recipes that taste way better than Cup Noodle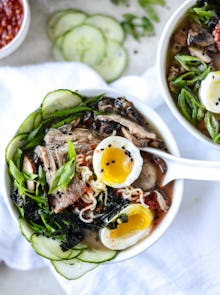 Ramen is one of the many, many joys in a noodle lovers' life. 
But while packaged ramen has recently been scorned for its crazy high sodium content and potential health risks, homemade ramen doesn't need to bare the salty shame of its instant competitor. 
Skip the Cup Noodle or Top Ramen for a day and try making one of these homemade healthy ramen recipes instead. The results are well worth it. 
Leftover slow cooker or oven roasted pork, a few fresh veggies and an egg all come together with blocks of ramen noodles to create this spectacular but spicy soup.
Roasted brussels sprouts add many more depths of flavor to this healthy ramen.
Combining traditional Hawaiian and Japanese flavors, this ramen bowl adds protein and vitamins (seaweed!) to your typical dried ramen noodles dinner. Also, it's delicious.
Tasty all year round, this autumn ramen uses umami-packed mushrooms and a creamy soy broth for optimum deliciousness and comfort on a crisp day. 
If you just can't quit that powdered beef broth, at least add some vitamins with the leafy greens and onions this easy pho ramen creation requires.
Peanuts and chicken add double protein to this ramen bowl, which is savory and spicy enough to eliminate any cravings for extra salt.
If you're in the mindset that anything tofu-topped is healthy (or at least healthier) than this ramen is for you. Order fresh ramen noodles online like the recipe suggests for even more excellence.
A packet of Japanese ramen goes a long way with some freshly cooked chicken, veggies and ginger. 
Kimchi is packed with health benefits, so adding it to your ramen is a clear yes.
With a healthy broth shortcut using fresh ginger and garlic, you'll barely miss the MSG. The noodles-to-veggie ratio also makes the ramen feel extra healthy.
If you can't quit the crunch of instant noodles, at least surround your dried ramen with fresh vegetables. This edamame- and cabbage-packed salad is an easy potluck pleaser.