Is Deathstroke coming to the DC Cinematic Universe? Ben Affleck's tweet fuels speculation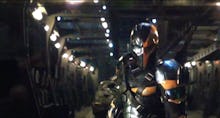 August 29, 2016, 2:00 p.m. Eastern: According to an exclusive report from the Wrap, Deathstroke is going to be the main villain in Affleck's solo Batman film. Whether or not he'll make a cameo in Justice League or any other films is unclear, but now it's official: Deathstroke is making his way to the DC Extended Universe.
While DC Comics continues to mount considerable hype for its films, only to thoroughly disappoint critically (see: Suicide Squad and Batman v Superman), they keep finding new ways to excite the fanbase. The latest: teasing a beloved villain from the comics. 
On Monday, Ben Affleck shared some rough cut footage on Twitter of someone that looks a lot like DC assassin Deathstroke, a character that was most notably the inspiration for Marvel's eclectic antihero, Deadpool. There's not much to the footage — he's slowly walking toward the camera of an indiscernible, warehouse-like backdrop.
Out of context, it's unclear what this could mean for future films in the DC Extended Universe. It could be a tease for the character's appearance in the upcoming Justice League film, or a very early glimpse at Affleck's upcoming Batman solo movie that he is starring in and directing. Or, it could just be a red herring for a character many fans hope to see on the big screen. 
Case in point: the outlandish fan theory that took the internet by storm prior to the release of Batman v Superman, which posited that Affleck's Batman wasn't actually the Caped Crusader, it was Affleck playing Deathstroke disguised as Batman. (This was obviously untrue.)
Hopefully we'll know more about a potential Deathstroke appearance in the near future, but in the meantime, Affleck's post has got the Twitterverse is an excited storm.