Huma Abedin splits with husband Anthony Weiner after latest sexting scandal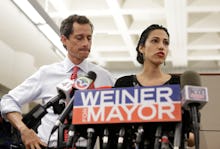 No more standing by her man.
Huma Abedin, the top Hillary Clinton aide, who's lived through years of husband Anthony Weiner's sexting with other women, announced Monday that she's leaving him.
In a brief statement, Abedin said she and her sext-crazed spouse "remain devoted to doing what is best for our son," Jordan, and asked for privacy.
Weiner's latest implosion came to light late Sunday night, when the New York Post revealed he'd sent a woman lewd photos of himself as his toddler son was lying in bed next to him.
The former congressman and two-time New York City mayoral hopeful subsequently deleted his Twitter account.
The split may well have been in the works long before the latest tawdry revelation.
It wasn't long before Clinton's GOP foe Donald Trump weighed in with a formal statement about the split.
The thrice-married Trump, whose own infidelities are the stuff of gossip-page legend and lawsuits, praised Abedin for deciding to jettison the marriage.
But Trump also suggested Clinton was "careless and negligent in allowing Weiner to have such close proximity to highly classified information. Who knows what he learned and who he told?"
Weiner couldn't immediately be reached for comment Monday.
His journey from rising star to political train wreck was detailed in a recent documentary that followed his failed 2013 bid for the mayoralty.
Abedin, now traveling with Clinton as a linchpin of her presidential campaign team, appeared in a launch video for her husband's bid, helped him fundraise and was widely seen as a top surrogate for her flawed husband after his shamefaced 2011 resignation from Congress.
The film captured not only Weiner's continuing belief in the possibility of redemption — even in the face of recurring scandals over his online flirtations with other women — but Abedin's obvious frustrations with him and the tensions in their relationship.
Weiner and Abedin married in 2010 at a lavish Long Island ceremony presided over by former President Bill Clinton.