The VMAs featured endless groundbreaking performances from women — and exactly 0 from men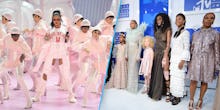 If the 2016 MTV Video Music Awards proved one thing — other than Kanye West may want to use a teleprompter, or write notes for himself next time he tries to give a televised speech — it's that women have officially taken over pop music. 
Nearly every single interesting and innovative aspect of Sunday night's production was helmed by or crafted to magnify women. From Britney to Ariana to Nicki to Rihanna to Beyoncé, each artist made progressively more powerful cases for the beauty created when women are given the space to control their art. 
On the other end of the gender spectrum: basically nothing. Future ran through another basic award show performance of "Fuck Up Some Commas" and Nick Jonas' "Bacon" skit felt inordinately bland for the amount of star-power it contained. Altogether, the night offered a solid reflection of pop today, something that seems a complete reversal of pop in the late oughts: all the notable mainstays truly pushing artistic boundaries are women. 
Rihanna set the tone for this celebration of female empowerment early, performing a stylized medley of her past EDM hits with some inventive, if risky slo-mo choreography. She went on to do three more over the course of the night hitting the hip-hop-angled "Needed Me" and the operatic "Love On the Brain." It was all in celebration of her accepting this year's Michael Jackson video vanguard award, something only four other women have won over the course of the awards thirty year history. 
She did it all showing how her unique brand of sex-positivity and international empowerment can translate through any genre. The most authentic and striking manifestations come from her recent Anti, which previously defied all expectations of what a Rihanna album can and should be.
Beyoncé too showed an incredible range in her 15-minute Lemonade medley. Whereas Queen Bey's 2014 VMA performance was no less iconic, this year's showcasing injected more devastatingly felt personal narratives of marital infidelity, police brutality and nods to the Black Lives Matter movement. 
The singer also swept the show's award categories, collecting a whopping eight awards, including video of the year, best pop video, breakthrough long form video and best direction. She's now the most decorated artist in VMA history, surpassing another groundbreaking queen, Madonna.
Further embellishing this picture of women running pop music, Nicki Minaj and Arianna Grande literally forced two men to get on their knees and perform above-the-clothes cunnilingus. The pair performed their new single "Side By Side," a female power anthem dedicated to keeping each other focused, even when an attractive piece of male arm candy happens to catch your attention. 
Meanwhile, the men of pop culture seemed to serve one function throughout the entire night: amplify the greatness of women. 
While Calvin Harris won the best male video award for his collaboration with Rihanna on "This Is What You Came For," his acceptance speech centered entirely on Rihanna's greatness.
Similarly, Drake receive an award for best hip-hop video, though there were no female nominees to compete with, but his only big onstage moment was arriving late to the function in a corny tuxedo to profess the love he's felt for Rihanna since he was 22-years-old. She reciprocated by accepting the most prestigious award of the night and then shaming MTV's producers for not readjusting the height of the mic to fit her height.
Even West took a moment to shout out his wife Kim Kardashian West during his speech: "My wife is a G!" he shouted. The Chicago rapper also gave a nod to Queen Bey, admitting he didn't mind if she beat him for video of the year: "Now, later tonight, 'Famous' might lose to Beyoncé, but I can't be mad," he said. "I'm always wishing for Beyoncé to win."
Beyoncé did end up beating West for the award, and for good reason. West's "Famous" video did little except place women beside their abusers in a facile attempt to be thought-provoking. It retread tired narratives of celebrity bodies being objects for consumption. On the other hand, Beyoncé and Rihanna's performances and work this year brought these bodies to life, showing the change an active, empowered influencer comfortable in their skin can create.
The VMAs gave a necessesary appraisal of the state of pop. In many ways, 2016 seems a complete reversal of the gendered pop tropes that have governed the genre for the past decade plus. Male pop stars like Justin Bieber and Drake are the ones getting wrapped in messy beefs and dramas. Male artists are the ones rehashing well-worn styles. The Weeknd is off trying to become Michael Jackson 2.0, forgetting the sounds that made him a unique voice in the first place. Justin Timberlake is the author of the most forgettable song of the summer.
While certain critics can absolutely highlight out the fact there wasn't much meaningful political engagement at award shows and there's still a lack of women writing or producing in music, Sunday seemed to take steps in the right direction. Female pop artists are continuing to dismantle the expectations that they need to play their careers in a safe, sexy and pedestrian beside their male counterparts. If male artists want to be included in the end of year conversation in any meaningful way, they're going to have to step it up.