Florida and Arizona primaries 2016: Here's what to know about key Senate and House races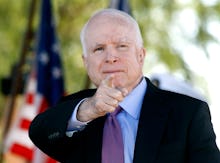 Donald Trump's improbable victory in the Republican presidential primaries this year marked a devastating blow to the political establishment — and upstart challengers in both parties hope to deal the ruling elite another knockout punch on Tuesday.
Voters are heading to the polls for Senate and House primaries in Florida and Arizona, with the electoral careers of political titans like Debbie Wasserman Schultz, the former chairwoman of the Democratic National Committee, and John McCain, the 2008 GOP presidential nominee, on the line.
Here's a rundown of what to expect in Tuesday's top races.
Florida
Since winning election to her South Florida-based House seat in 2004, Wasserman Schultz has never faced a serious electoral challenge — until now.
The embattled former DNC chair — who resigned that post following the leak of emails that showed party officials colluding to harm the Bernie Sanders campaign — is set to face off against Tim Canova, a Sanders-backed law professor and progressive activist. Meanwhile, presidential nominee Hillary Clinton is backing Wasserman Schultz, with Clinton declaring that she needs to have her longtime ally "in Congress, by my side, working day after day."
While Clinton defeated Sanders by a two-to-one margin in Wasserman Schultz's district in the March presidential primary, the likelihood of a lower turnout on Tuesday and Canova's fundraising prowess could spell trouble for the incumbent.
A recent public poll showed Wasserman Schultz with just 50% of the vote to Canova's 40%, while an internal poll from the Canova camp showed the challenger trailing by only eight percentage points. Wasserman Schultz's own internal polling, by contrast, shows her with a 59% to 26% lead.
In another contest that pits the Democratic elite against the party's progressive insurgent wing, the establishment-backed Rep. Patrick Murphy will square off against fellow congressman Alan Grayson in the primary to take on Sen. Marco Rubio, who opted to seek a second Senate term after his presidential bid sputtered.
But the fire-breathing progressive Grayson has struggled to marshal liberal support — in no small part because of the numerous controversies dogging him, including domestic abuse allegations and an ethics investigation into his management of a hedge fund while serving in Congress. Though earlier polls showed a single-digit race between the pair, a recent poll gave Murphy a 48% to 17% advantage over Grayson.
Both men trail Rubio in general election polling, although Rubio must first dispatch a right-wing primary challenge from businessman Carlos Beruff. The senator should have no problem doing so: A late June poll found him with a 71% to 7% lead over Beruff.
Polls close at 7 p.m. Eastern.
Arizona
Eight years after serving as the GOP's national standard-bearer, John McCain may face rejection from home-state Republicans as he seeks a sixth Senate term.
Conservative former State Sen. Kelli Ward — who has gone so far as to suggest that the 80-year-old McCain may die in office if he secures another six-year term — wasn't the top-flight primary recruit many on the right had hoped for, but some polls suggest that the challenger could pose a viable threat to the senator.
A Public Policy Polling survey in May found McCain leading 44% to 31%, while a Gravis poll this month gave Ward a 45% to 36% lead. But a CNN survey also released this month showed McCain in much better shape, with a 55% to 29% lead.
Even if McCain overcomes conservative furor over his stances on issues like immigration reform and prevails in the primary, he won't be out of the woods yet. Some surveys show the senator locked in a single-digit race with Democrat Ann Kirkpatrick ahead of the general election — when a poor performance by presidential nominee Donald Trump could drag down Republican candidates like McCain, particularly if Arizona's Latinos mobilize in opposition to the GOP.
Polls close in the Grand Canyon State at 9 p.m. Eastern.