The iPhone 6 and 6 Plus "touch disease" just led to a lawsuit for Apple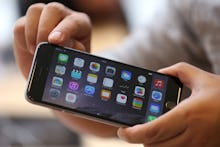 Apple's got 99 problems and a glitch is one.
Many iPhone 6 and 6 Plus owners have reported a problem known as "touch disease," an issue in which the phone exhibits a "small gray flickering band" at the top of the touchscreen. On Saturday, customers filed a lawsuit against Apple over the defect, Reuters reported. 
Apple "has long been aware" of this issue, which makes affected phones unresponsive and subsequently unusable, but the company "refused to fix it," according to Reuters.
The class-action lawsuit cites a violation of California consumer warranty and protection laws. It alleges that Apple made a choice not to better protect the touchscreen controller chips soldered to the iPhone 6 and 6 Plus logic board, which can get damaged and cause the "touch disease," according to MacRumors. 
The iPhone 5s and 5c, on the other hand, feature a "metal shield" or "undersell" over the logic board.
"As a result of Apple's unfair, deceptive and/or fraudulent business practices, owners of the iPhones, including Plaintiffs, have suffered an ascertainable loss of money and/or property and/or value," the complaint states, as reported by MacRumors. "The unfair and deceptive trade practices committed by Apple were conducted in a manner giving rise to substantial aggravating circumstances."
By refusing to repair iPhones experiencing this issue, Apple is putting the onus on third-party repair shops, which don't have access to repair instructions or the necessary parts to fix the devices in the precise way needed. That's because Apple lobbied against the Fair Repair Act this year, which would have made these available to the likes of iFixit and other third-party shops. 
"Repairing modern electronics like the iPhone circuit board requires specialized tools and access to schematics," iFixit founder Kyle Wiens told Mashable. "Independent repair shops have the expertise and tools, but without Apple's support are forced to rely on bootlegged schematics."
Mic has reached out to Apple for comment and will update with any response.