Here's what's coming to (and leaving) Netflix in September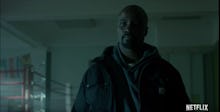 As the summer winds down, Marvel fans needn't wait much longer for another Netflix superhero series. Luke Cage, which follows the titular superhero as he cleans up the streets of Harlem, will premiere on the streaming service Sept. 30. But what's on for the rest of the month?
Among its other original series, Netflix will debut the second season of Narcos and the fifth season of Longmire on Sept. 2 and Sept. 23, respectively. Meanwhile, its movie slate will add classics from the '70s and '80s, including Jaws, Footloose and Top Gun, among other titles. 
Below, prospective binge-watchers can check out all the movies, comedy specials, documentaries and TV shows coming to Netflix in September, along with some of the biggest titles set to depart. 
Coming to Netflix in September:
September 1
The Amityville Horror
Babel
Bayou Maharajah: The Tragic Genius of James Booker
Bill & Ted's Bogus Journey
Bratz: The Movie
Burn, Burn, Burn
Cats & Dogs
Crashing, season 1
Defiance
Easy Fortune Happy Life
Europe's Last Great Wilderness
The Fierce Wife
Footloose (1984)
Full Out
Game Winning Hit, season 1
Heartland, season 7
Hellevator, season 1
Hoot
Hope Floats
I Am the Ambassador, season 1
Indochina's Wild Heart
The IT Crowd, series 5
Jaws
Jaws 2
Jaws 3
Jaws: The Revenge
Joyful Noise
Keepers of the Game
Last Holiday
Lucky Days, season 1
Man On Wire
Milk Money
Practical Magic
Road Trip
Sam Kinison: Breaking The Rules
Saving Private Ryan
Scary Movie 2
Shameless (U.S.), season 5-6
Stomp The Yard
Sweeney Todd
Top Gun
True Grit 
U­-571
The Wicker Man
Wild Madagascar
The Womanizer, season 1
The Year Of Happiness And Love, season 1
September 2
Baby Daddy, season 5
Chef's Table: France (Netflix original)  ­
Kazoops!, season 1 (Netflix original) 
Kulipari: An Army Of Frogs (Netflix original) 
Narcos, season 2 (Netflix original) 
Young & Hungry, season 4
September 6
Crash 
The Finest Hours
Hard Target 2
Honey 3
R.L. Stine's Mostly Ghostly: One Night In Doom House
September 7
The Blacklist, season 3
Galavant, seasons 1-­2
September 10
Supergirl, season 1
September 13
Extremis (Netflix original) 
Hawaii Five-­0, season 6
London Has Fallen
September 14
Goldie & Bear, season 1
September 15
Sample This
The Walking Dead, season 6
September 16
Cedric The Entertainer: Live From The Ville (Netflix original) 
Raiders!: The Story of the Greatest Fan Film Ever Made
The White Helmets (Netflix original) 
September 17
3 Days To Kill
Luther, season 4
Penny Dreadful, season 3
September 19
Call the Midwife, series 5
Gotham, season 2
September 20
Colliding Dreams
New Girl, season 5
Zootopia
September 22
Bones, season 11
Easy, season 1 (Netflix original) 
Wallander, series 4
September 23
Audrie & Daisy (Netflix original) 
Iliza Shlesinger: Confirmed Kills (Netflix original) 
Last Man Standing, season 5
Longmire, season 5 (Netflix original) 
VeggieTales in the House, season 4 (Netflix original) 
September 24
Portlandia, season 6
River 
September 25
Family Guy, season 14
Margaret Cho: PsyCHO
September 28
The Fosters, season 4 (part A)
The Imitation Game
September 30
Amanda Knox (Netflix original) 
Luke Cage, season 1 (Netflix original) 
Scream, season 2 
The biggest movies and series leaving Netflix in September:
2 Fast 2 Furious
A Walk To Remember
The Color Purple
Everybody Loves Raymond, seasons 1-­9
The Emperor's New Groove
Lilo & Stitch
Zoolander
Alias, seasons 1-5