Gene Wilder, beloved 'Willy Wonka' actor, is dead at 83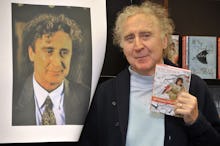 Beloved actor and comedian Gene Wilder is dead at age 83, ABC News reports. His family reportedly announced his death on Monday. Wilder was beloved by generations of young people for his role as the enigmatic Willy Wonka in the 1971 film Willy Wonka & the Chocolate Factory.
Wilder's family reportedly said Monday that the actor died of "complications from Alzheimer's disease" late Sunday, in Stamford, Connecticut, the Associated Press reported.
Wilder was born Jerry Silberman, according to the Washington Post, and took his stage name from playwright Thornton Wilder and a Thomas Wolfe novel. He developed his sense of humor, he explained in his autobiography Kiss Me Like a Stranger, after a doctor who was treating his ill mother told him "Don't ever argue with your mother — you might kill her ... Try to make her laugh."
Wilder was known for his roles in Mel Brooks comedies, including The Producers and Young Frankenstein, as well as for his marriage to fellow comedian Gilda Radner, with whom he starred in the 1982 film Hanky Panky. Wilder and Radner were married from 1984 until her death, from ovarian cancer, in 1989.
After Radner's death, Wilder helped to open the Gilda Radner Ovarian Cancer Detection Center at Cedars-Sinai Hospital in L.A. He married speech therapist Karen Webb in 1991, telling the Independent in 1996, "at that point in my life I didn't think I would ever be married again after Gilda died ... And now Ms. Webb and I live a quiet life in Connecticut."
In a 2013 interview about his role as Willy Wonka, Wilder described creating the iconic character: "I thought the script was very good, but something was missing," he said. "I wanted to come out with a cane, come down slowly, have it stick into one of the bricks, get up, fall over, roll around, and they all laugh and applaud. The director asked, 'What do you want to do that for?' I said from that time on, no one will know if I'm lying or telling the truth."