FBI says foreign hackers appear to have accessed state voter databases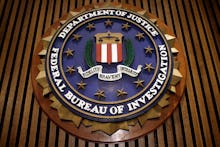 Great news: Foreign hackers are apparently targeting state election databases and have successfully breached two in recent weeks. As Yahoo News reported Monday, the FBI's Cyber Division sent a flash alert, warning recipients to review records for data access and beef up security. 
The FBI did not say which states were vulnerable, nor did it indicate who was behind the attacks. Rich Barger, the chief intelligence officer for cybersecurity firm ThreatConnect, told Yahoo that one of the IP addresses the FBI listed in its alert has been previously linked to "Russian criminal underground hacker forums."
Russia's cybersleuths have been busy this summer: The country is believed to have hacked the Democratic National Committee in July, as well as Hillary Clinton's campaign, and that was before Republican nominee Donald Trump encouraged Russian hackers to go after Clinton's email.
As for which states' information was compromised, signs are pointing to Illinois and Arizona. In Illinois, a month-long hack leaked the personal information of nearly 200,000 voters between June and July, according to the Chicago Tribune. And in late June, Arizona took its voter registration database offline; according to Yahoo, no data appeared to have been transferred, although "malicious software" found its way into the state's system. 
Eight separate IP addresses were linked to the two attacks, and one of those came up in both. Whether or not that was the address previously used by Russian hackers is not clear. Still, Barger said the breach bears some of the same fingerprints as previous Russian attacks, and arriving on the tails of August's National Security Agency hack, Barger say there's plenty of cause for concern.
"This is a big deal," Barger said. "Two state election boards have been popped, and data has been taken. This certainly should be concerning to the common American voter."