How Republicans' control of Congress could change in the 2016 elections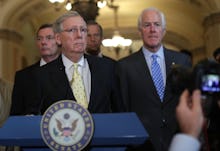 For all the power Republicans currently wield in Congress, their hold on the legislative branch is precarious. The GOP is defending about a dozen Senate seats which polls show are competitive, while Democrats only have one incumbent in a competitive race. In the House, projections show Republicans will lose seats but the GOP will keep control. 
In 2016, the advantage Republicans have built in Congress since 2010 needs its greatest defense at the worst possible moment. Seven GOP Senators elected for the first time in 2010 are facing tough reelection bids with Donald Trump polling behind Hillary Clinton in their states. And Republican representatives in states that are typically blue in presidential years — like California, New York, Illinois and Pennsylvania — are in competitive races.
In sum, Democrats stand a good chance of taking control of the Senate while Paul Ryan will likely remain Speaker of the House.
Here's where some of the competitive Senate and House races stand — and what they say about how Congress may look after the election. 
Senator Ron Johnson, Wisconsin
The Senate race has not been heavily polled. But there's little doubt former plastics manufacturer and current Sen. Ron Johnson is in trouble. An early August poll put former Democratic Sen. Russ Feingold up 11 points over Johnson. RealClearPolitics, Sabato's Crystal Ball and others project Democrats will pick up the Senate seat. Out-of-state Republican groups know the race is in jeopardy, spending nearly $5 million so far on ads against Feingold or in support of Johnson. 
Johnson, who beat Feingold to win the seat six years ago, has sparred with his liberal opponent over the economy and trade. Feingold has hit Johnson for "shipping Wisconsin jobs overseas" while the Republican has touted free trade for creating jobs in his Rust Belt state.
Senator Pat Toomey, Pennsylvania
Pennsylvania has consistently gone blue in recent presidential elections, but only three of Pennsylvania's 11 senators since 1951 have been elected as Democrats. But Katie McGinty is looking to buck that trend. 
A former top environmental aide to federal and state officials, McGinty is polling evenly with Republican Sen. Pat Toomey. The fact that Toomey is still competitive, while Trump lags in Pennsylvania by eight points shows the conservative is a strong candidate who may be able to outperform his party's presidential nominee. Toomey was elected in 2010, defeating Democrat Joe Sestak.
Representative Mike Coffman, Colorado
There are no polls to show how much trouble Republican Mike Coffman faces in holding his district that represents the Denver suburbs. But the three-term congressman is concerned enough that he launched an ad distancing himself from Trump. In early August, Coffman drew national attention for saying he would "stand up to" Trump if he is elected president.
Coffman knows he cannot let voters in his swing district connect him to the unpopular Republican nominee — he was only reelected by two points in 2012. If voters kick out swing district conservatives like Coffman in favor of Democrats, Republicans stand to lose a dozen or more House seats. For her part, Coffman's Democratic challenger, state Sen. Morgan Carroll, is doing all she can to connect the dots for voters. Carroll told the Denver Post, "Donald Trump and Mike Coffman's vision for Colorado — a divided state where we live in fear of each other, where we demonize those not like us — is out of touch with the voters of this state."