These Gene Wilder movies are available online — but not on Netflix. Here's where to watch.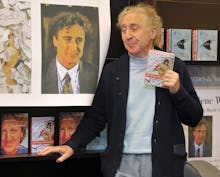 Gene Wilder, the comedian and actor whose memorable film roles spanned decades, is dead at 83. Wilder's longtime collaborator Mel Brooks joined the chorus of those sharing thoughts about the actor on Twitter Monday. 
Wilder is best known for his roles in Brooks movies like Blazing Saddles and Young Frankenstein — plus, of course, for his iconic role as the titular chocolatier in Willy Wonka and the Chocolate Factory. Unfortunately, these three prominent films aren't available to stream on Netflix.
However, with some compromises, fans can still purchase these titles individually. Here's how you can watch Wilder's biggest films online or on DVD. 
Willy Wonka and the Chocolate Factory: Wilder stole the show as Willy Wonka, with positive reviews for the film praising his performance.  
"Part of why Willy Wonka still resonates, 30 years after its release, is because Gene Wilder's crown prince of confections is a rather scary fellow; he's Puck, Loki, Pan and Peter Pan all rolled into one," Marc Bernardin wrote in a 2001 review for Entertainment Weekly. "For every dulcet song there's an unsettling aside, uttered with a wide-eyed manic energy. He's such a powerful presence that it's easy to forget that he doesn't appear until almost halfway through the film." 
Willy Wonka fans can rent the film on YouTube or Amazon Video to watch it online. 
Blazing Saddles: The satirical Western was one of many highly praised collaborations between Wilder, Brooks and fellow comedian Richard Pryor — with Blazing Saddles going down as one of their finest works. 
"It's a crazed grab-bag of a movie that does everything to keep us laughing except hit us over the head with a rubber chicken," Roger Ebert wrote in 1974. "Mostly, it succeeds. It's an audience picture; it doesn't have a lot of classy polish and its structure is a total mess. But of course! What does that matter while Alex Karris is knocking a horse cold with a right cross to the jaw?" 
Blazing Saddles is available to rent or purchase purchase on YouTube, Amazon Video, iTunes and is free with a Cinemax subcription. 
Young Frankenstein: Another Brooks-directed work, Young Frankenstein puts Wilder in the iconic role of Dr. Frankenstein with a comedic twist. He has to try to live up to his grandfather's impressive zombifying work, achieving mixed results at best with his monstrous creations. 
"Wilder's hysteria seems perfectly natural," Pauline Kael wrote in a 1974 review for the New Yorker. "You never question what's driving him to it; his fits are lucid and total. They take him into a different dimension — he delivers what Harpo promised."  
Young Frankenstein, sadly, isn't available online — but it can be purchased on DVD or Blu-Ray for as little as $5.