Eagles' Myke Tavarres won't join Colin Kaepernick in sitting out national anthem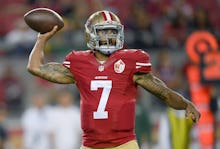 Republican presidential candidate Donald Trump has found yet another controversy for him to wrap his paws around: San Francisco 49ers quarterback Colin Kaepernick, who on Friday decided to begin sitting out recitations of the national anthem at NFL games "to stand with the people that are being oppressed" by police brutality.
Trump told the The Dori Monson Show on Monday afternoon that Kaepernick should move to a different country "that works better for him" if he dislikes the nationalistic ritual so much. The comments come as Kaepernick's protest has drawn attention throughout much of the football world and beyond — and as the Philadelphia Eagles' Myke Tavarres briefly promised to join Kaepernick in protest, but backed down by the end of the day Monday.
Tavarres told ESPN he "will be taking a stand — or sitting down — for the fourth game" of the Eagles' preseason, adding, "We've got an issue in this country in this day and age, and I feel like somebody needs to step up and we all need to step up." But by Monday afternoon, his agent, Corey Williams, said Tavarres had decided to stand, so as "not to be a distraction for the Eagles."
Kaepernick's protest, however, continued to dominate the discussion for days following his actions Friday, seemingly demonstrating he had hit a real nerve.
Particularly harsh criticism came down from Fox News, where Trump-allied personality Sean Hannity openly speculated Kaepernick's protest was linked to a secret conversion to Islam and host Brian Kilmeade suggested Kaepernick had no right to protest because he was brought up by white parents.