How to stream 'Overwatch,' 'WoW' and 'Starcraft II' to Facebook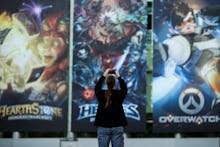 Blizzard Entertainment — the developer of games such as Overwatch, World of Warcraft and Starcraft II — has teamed up with Facebook to implement a feature allowing players to livestream their gaming sessions on the social media platform. This option is currently available for PC gamers in the Americas, Southeast Asia, Australia and New Zealand, with plans to expand the function worldwide coming "soon."
The new service can be activated by connecting your Battle.net account to Facebook. Once complete, you can designate a hot key shortcut to broadcast while in game. A short video below details the process. 
"Blizzard games are best when played with friends, so it's important to us to provide our players with features and services that make it easy and fun to share their experiences with each other," Gio Hunt, an executive vice president at Blizzard, said in a joint statement with Facebook.
Could this be Facebook's attempt to take down popular streaming service Twitch? Facebook and its subsidiary Instagram seem to have no problem borrowing features from rival platforms.