Chessy Prout comes forward as victim in Owen Labrie prep school rape case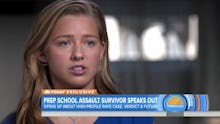 The survivor in the St. Paul's School rape case has publicly revealed her identity, a move she hopes will show other sexual assault victims they don't have to hide from what happened to them.
"It's been two years now since the whole ordeal and I feel ready to stand up and own what happened to me," Chessy Prout, 17, said in an interview with Today Tuesday morning. "I'm going to make sure that other people, other girls, other boys know that they can own it, too, and that they don't have to be ashamed, either."
In August 2015, Owen Labrie was convicted of three counts of misdemeanor sexual assault, one felony count of illegal use of computer services, and one misdemeanor count of child endangerment. In 2014, when the assault occurred, Prout was a freshman and Labrie was a senior at New Hampshire's prestigious St. Paul's School. During the criminal trial, Prout testified that she twice said no before eventually freezing up as Labrie became more forceful. 
Labrie wasn't convicted on the felony sexual assault charge because, as Prout put it, jurors "didn't believe that he did it knowingly."
"That frustrated me a lot because he definitely did do it knowingly, and the fact that he was still able to pull the wool over a group of peoples' eyes bothered me a lot and just disgusted me," she continued.
"I hope he learns; I hope he gets help," Prout said. "Because if he doesn't learn, he will do it to another young woman."
The encounter was part of a tradition called the Senior Salute, which compels seniors to try to "score" with as many younger students as possible before graduating. Prout's parents filed a civil suit against the prep school in June, alleging that St. Paul's "permitt[ed] and condon[ed] a tradition of ritualized statutory rape" and has failed to protect its students. 
The plaintiffs wanted to remain anonymous in the suit, going by Jane and John Doe while their daughter, the victim, went by J.D. St. Paul's pushed back, filing a motion for the court to release their names. 
The school argued the family was pitching a media attack from behind "a cloak of anonymity" and tarnishing its reputation. On Tuesday, the victim's mother, Susan Prout, said the school's preoccupation with its own image was precisely the problem. 
"You think the campus would say, 'Uh oh, we need to talk about what's happened,'" she said. "But we didn't see that happening. ... Unfortunately, it seems like the school's reputation became more important, rather than supporting our daughter."
In a statement to Today, St. Paul's enumerated the measures it has put in place to change its culture, and said it "condemns unkind behavior toward" Prout:
We have always placed the safety and well-being of our students first and are confident that the environment and culture of the school have supported that. We categorically deny that there ever existed at the school a culture or tradition of sexual assault. However, there's no denying the survivor's experience caused us to look anew at the culture and environment.
Prout disagreed, saying that St. Paul's was not "trying to prevent it from happening to anyone else," and that "there was just no recognition that I had gone through something like this."
That's why she's "pushing for change," she said. Prout wants other survivors to know they're not alone and they can reclaim the narrative. Prout is partnering with Promoting Awareness Victim Empowerment to help victims come forward and to help prevent sexual assault in the future. She's also launching a hashtag, #IHaveTheRightTo, to remind women and survivors they aren't powerless.
"I want other people to feel empowered and just strong enough to be able to say, 'I have the right to my body; I have the right to say no.'"