'Dead or Alive Xtreme 3' lets you sexually assault a woman in virtual reality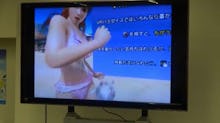 Sexual harassment and violence in video games isn't new. Gamers have been able to sleep with and then murder sex workers for money in Grand Theft Auto for years. But now it's available in a more visceral form: virtual reality.
In Dead or Alive Xtreme 3, a PlayStation VR game set to launch in Asia in October, players can grope a female avatar while she grimaces and says, "I don't like it," Engadget reported. She also says a word that translates both to "bad" and a word "often used to flatly deny permission," Engadget added.  
In a video of a man demoing the virtual reality game, we can see him reach out with his controller and his headset to continuously grope the woman's body despite her nonconsensual body language and verbal denial. 
The game isn't coming to the West — and a community manager for Team Ninja, the studio behind the the aforementioned beach simulation, has previously commented on the fact that the way women are represented in the game might be why it is only being released in Asia, Polygon reported. 
Koei Tecmo Games, the company behind the game, responded to the comments, saying they "only reflect that individual's opinion" and that it will "remain focused on delivering the best in fighting entertainment to our fans around the world, while consciously respecting and strategizing to support the different global audiences the Dead or Alive franchise lends itself to." 
One of the "different global audiences" is, apparently, gamers who want to watch women be sexually assaulted. Good to know Koei Tecmo is committed to supporting them.