Fox News host says Colin Kaepernick should stand for anthem because of white parents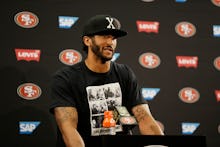 San Francisco 49ers quarterback Colin Kaepernick's refusal to stand during recitations of the national anthem at football games to protest police brutality has earned him ire from conservative personalities up to and including Republican presidential nominee Donald Trump.
But on Monday, Fox News host Brian Kilmeade took the criticism to a new, bigoted level, suggesting Kaepernick should be grateful for his life in the United States because the biracial quarterback was fortunate enough to be raised by two white parents.
On the Monday edition of Kilmeade's radio show Kilmeade & Friends, Kilmeade discussed the Kaepernick protest with former Washington Redskins player Joe Theismann, Raw Story reported Monday.
"Those two minutes are more than just trying to make a statement," Theismann told the host, adding he believes the flag deserves the respect of all U.S. citizens. "This country that he doesn't respect by sitting during the national anthem has afforded him an opportunity in life that I don't know many other countries that would."
"And let's be honest," Kilmeade responded, "he was adopted by two white parents, he was well supported. He is a great athlete, I'm sure he worked hard, I also heard his grades were great."
"I don't know what is in his experience that could be so negative," Kilmeade continued. "But let's start from the place, we all love the country and let's try to make it better."
To be clear, Kaepernick's parentage does not erase his experience as a biracial American — and Kaepernick himself has addressed the issue of his adopted family and racial identity before.
"We used to go on these summer driving vacations and stay at motels," the quarterback told US Weekly in October. "And every year, in the lobby of every motel, the same thing always happened, and it only got worse as I got older and taller. It didn't matter how close I stood to my family, somebody would walk up to me, a real nervous manager, and say: 'Excuse me. Is there something I can help you with?'"