Apple's iPhone 7 event invitation hints at a game-changing rumored feature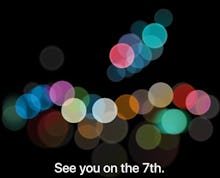 Apple's iPhone 7 event is right around the corner — Sept. 7, according to invitations emailed to reporters Monday. Personally, out of all the iPhone 7 leaks, updates and rumors, there's one potential feature I'm truly excited about, and that's the updated camera on the iPhone 7 Plus.
Put simply, the iPhone's camera stinks in low light. It's fine when you're taking wide shots in the park, but nighttime photography always comes out grainy. This is due to a few factors, including a lack of optical image stabilization and limits on shutter speed. 
Leaked photos of the iPhone 7 Plus show a neat dual-lens camera, and it's likely that this double-camera tool will be used to allow in far more light, resulting in cleaner-looking images because the phone won't have to raise the ISO to compensate. It might also be able to create that neat bokeh effect photographers love — blurry, out-of-focus circles of light in the background.
Kinda like what you see in this Apple event invitation.
Tech Insider's Steve Kovach saw the invite and guessed that the iPhone portion of the Sept. 7 event will center on the device's improved photography, and I think he's right. Apple probably knows Samsung and Huawei have the company beat when it comes to photography, and it'll look to regain that edge in the market. 
Also, now that DSLRs and high-quality mirrorless cameras are cheaper than ever — you can find Sony's excellent a5100 in like-new condition for about $500 — the bar for high-quality images is even higher.