Top Donald Trump surrogate tweets, then deletes, cartoon of Hillary Clinton in blackface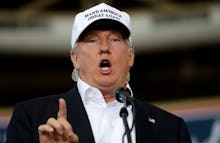 Mark Burns, an African-American pastor who has been a key figure in Donald Trump's mission to woo black voters to his campaign, deleted a tweet Monday that included a cartoon depicting Hillary Clinton in blackface — apologizing for using the racially charged image, but adding that he does not regret the message he attempted to send.
"I'm so sorry for the offensive #Blackface image of @HillaryClinton but stand by the message that we Black ARE being Used by #Dems for VOTES," Burns tweeted Tuesday morning.
A day earlier, Burns went on MSNBC to defend his use of the image. But instead of apologizing for his use of the blackface image, Burns deflected questions from Kristen Welker, at many times yelling over her.
"This is why we live in a PC environment when we think one person speaks for all," Burns said of whether his use of the blackface cartoon would cause blowback for Trump. "I'm a completely separate individual. I am not Donald Trump. I am Mark Burns from the great state of South Carolina."
Trump has been attempting to make inroads with black voters, saying Clinton panders for their votes but will do nothing to help better their lives.
Burns — who has been one of Trump's only African-American surrogates in 2016 — sought to make that same argument with his tweet, but the offensive imagery clouded that message.
At the same time, Trump has not listed any specific policies that are geared toward the challenges minorities in the United States grapple with. Instead, he's painted a blanket picture of despair, poverty and crime that he seems to believe all African-Americans living in the U.S. face.
It's a message unlikely to help Trump's dismal poll numbers with black voters.
Trump, however, will take that message directly to black voters this weekend at a black church in Detroit. It's the first time Trump will speak to a majority-black audience as a presidential candidate, the New York Times noted.
And Burns himself announced the event for the Trump campaign in a statement on Sunday.