Singer Teyana Taylor reveals how Kanye West got her to play a cat for "Fade" video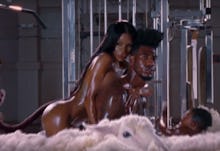 It's not everyday you find yourself in the same studio complex as Kanye West, but you know you're doing something right if he casts you in a music video on the spot. That's exactly what happened to Teyana Taylor when she bumped into Yeezy, and he asked her to dance for "Fade," his latest video, which premiered at the 2016 MTV Video Music Awards. 
Taylor's eight-month old child Junie also appears in the video, along with her NBA player husband Iman Shumpert. But the recording artist was completely taken out of her comfort zone when West asked her to transform into a mother feline for the shoot, a costume he promised her would be nothing less than "chic."
"He was just like, 'I'm going to put you in this cat face. It's going to be chic,'" Taylor told Vogue following Sunday night's premiere of the Tidal exclusive music video. "I thought, 'This crazy mother-effer. He's got 15 sheep in this gym right now, with poop all over the place.' It's crazy the thing that happens behind the scenes; my wig almost flew off."
Taylor's incredible body and the radical, anthropomorphized cat face were the talk of Twitter following the night, along with Beyoncé's multilayered performance and Rihanna's slaying four times over. 
And although Taylor has been in the recording industry for some time, she said her VMAs moment couldn't have arrived at a better moment in her life.
"It's emotional because I've been in the industry for so long and I've never understood why certain things weren't happening," Taylor told Vogue. "And now I feel like my story, everything that I've been through, makes this moment so much more special. Though it took so long for this to happen, I don't feel like it could've happened at a better time."
Taylor took control of certain elements to "Fade," creating the choreography with her friends, some of it was originally meant to appear in a 2011 Beyoncé video. She also did part of her own makeup for the cat scene. The concept of the video, which focuses solely on Taylor and her family throughout, is exactly in line with the theme of the VMAs: Women have officially taken over pop music.  
"It's just so dope to watch the final product and know all the things that went into it," Taylor said. "From the bottom of the heart this meant so much to me."
Watch the video via Tidal below.