There's now LGBTQ Donald Trump merchandise — but only in men's sizes, of course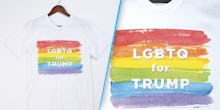 Over on the Donald Trump campaign apparel website, where you can buy everything you need to show your support of our Republican nominee for president, you can snag a camouflage hat with "Make America Great Again" stitched across the front, or a T-shirt that reads, "#BuildTheWall" or a more menacing T-shirt that reads, "History is watching us now." 
And now, just recently, you can buy a white T-shirt that reads "LGBTQ for Trump" over a shoddily-painted rainbow flag. 
"Show your pride and your support for Trump with this exclusive equality tee," the website writes in the description for the shirt, which retails for $30. 
And while this may seem like a win for any LGBTQ person who is a Trump supporter (they do exist), the shirt is only available in men's sizes. Although the Donald Trump campaign website has a women's section, there isn't a shirt marketed towards female members of the LGBTQ community. Just the men. 
In addition to this T-shirt, there is just one more piece of Trump swag for the LGBTQ community, and that's a button, which can thankfully be comfortably worn by all. 
But still, if the campaign was going for some tiny sense of inclusion, it may have been wise to target both LGBTQ men and women, which is something that Twitter was quick to point out. 
There's also the fact that the T-shirt isn't exactly highlighted in the men's apparel section, hinting that the campaign may be conflicted about the design. And that would make sense given the fact that Trump has had a long history of questionable statements regarding LGBTQ rights and people. 
Mic has reached out to the Trump campaign for comment, and to see if LGBTQ T-shirts for women will be rolling out soon.