'Pokémon Go' creator Niantic lifts lifetime bans on app-using players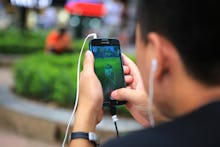 There's hope for you yet, cheaters: Pokémon Go creator Niantic Labs will lift the lifetime bans of some players who used add-on map apps to more easily track Pokémon.
Niantic CEO John Hanke said the company won't be going any easier on third-party applications, since they seem to wreak havoc on Pokémon Go's servers. According to a press release from Hanke, Niantic blocks bots, data scraping (getting data off the web) operations and anyone who implements them.
According to the release, the apps in question can do more damage than just showing you where to find a Charmander. Each app can be used by the app creator as a way to collect data from players without the players knowing. Considering there are about 9.5 million daily active Pokémon players in the U.S. alone, even the activity from a small percentage of them using these data-collecting apps can have an "effect similar to DDoS attacks on our servers" — meaning the amount of activity resembles a massive hack. "Because of this we have had to ban some accounts associated with using these add-on map tools," Hanke wrote. "This is a small subset of the accounts banned."
But Hanke's giving naive players the benefit of the doubt: "Some players may not have realized that some add-on map apps do more than just show you nearby Pokémon," Hanke wrote. Thanks to some game changes, players who used the apps can be unbanned — but they'd better straighten up.
The Terms of Service still say you can't use add-on maps, and accounts used specifically to scrape for Pokémon data are staying banned. That extends to any accounts who used apps and websites to "remotely capture Pokémon, battle or deploy on Gyms, or harvest resources from PokéStops" — essentially, cheat and make the game lame for people who are out in the street hustling for Hitmonchans.
"Our main priority is to provide a fair, fun, and legitimate experience for all players," Hanke wrote, "so, aggressive banning will continue to occur for players who engage in these kinds of activities."