Old Navy's in hot water over these seemingly sexist 'Ghostbusters' kids T-shirts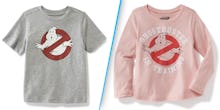 It's been more than a month since the much-debated all-female Ghostbusters remake hit theaters, and people are still finding tiny controversies. 
Before the film even debuted, there was outrage that women would be the ones blasting away ghosts. Then there were the Halloween costumes inspired from the film, which many saw as sexist since they came with heels. Now, controversy is trickling down all the way to Ghostbusters apparel and, namely children's apparel. 
According to Jezebel, people are upset over two different T-shirts currently sold at Old Navy. Both shirts are for toddlers, but there's a big difference between the one marketed towards boys and the other one marketed towards girls. 
The one in the toddler boys' section has the Ghostbusters logo printed across the front, while the one in the toddler girls' section says "Ghostbuster in training," as if the girl isn't ready but the boy is, or something. 
In fact, there's just one T-shirt in the girls' section that's Ghostbusters-related, while the other three shirts sold at Old Navy are in the boys' and mens' section of its website. Although there's a Ghostbusters shirt for men, there isn't one for women. 
Sure, girls could easily wear a shirt that's supposed to be for boys, but since the movie was about women, starring nearly all women and was marketed as a feminist remake, it seems like a missed opportunity. 
"Though I'm sure that cute little grey sweatshirt will fit your 15-month-old daughter just fine, you'll have to go to the boys section to find it," Jezebel's Bobby Finger wrote. 
Why not have an equal number of shirts for boys and girls, and for men and women? Why not have a shirt that's decidedly gender-neutral (like that grey one) hanging in the women's section, or in the women's section online? 
Thankfully, it's not like all toddler girl and boys shirts are like this. Notably, as pointed out by Jezebel, when you search for "Leader," the T-shirt for boys reads "Future leader," while the T-shirt for girls reads "Born leader." 
Some equality feels nice, doesn't it? 
Mic has reached out to Old Navy for comment.