Rapper Young Thug says he doesn't "care for sex that much" — Here's why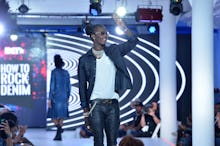 When you listen to some of Atlanta rapper Young Thug's lyrics — example: "every time I fuck I gotta hit me least like two bitches" — you may come away with the impression that he enjoys having sex from time to time.
But you would be wrong! In fact, he says he's not much of a fan of sexual intercourse at all. In a recent interview with VFiles, Young Thug and his fiancée Jerrika Karlae revealed that they didn't even bang until a full six months into their relationship.
"We wasn't doing it on like no 'it's too early to have sex' shit," he said. "I don't care for sex that much. I never actually have sex with her. Never ever. Our first time doin' grown stuff, she did it. She pulled me in the room and was like 'come here.'"
Karlae admitted that she was a little taken about by Young Thug's blasé attitude toward fucking at first.
"I was like, 'What's wrong with this guy?'" she said. "'He's weird.'" But then she added that nowadays "that's what I love about him."
A heterosexual male rapper admitting that he "doesn't care for sex" is kiiiiind of shocking, right? Men in general are stereotypically expected to be sex-obsessed creatures, and rappers in particular are known for bragging about their sexual conquests all the time. And yet reports estimate that, in reality, about one in five men actually have low libidos. So Young Thug isn't exactly alone.
The fact that he is comfortable speaking about having a low libido is fairly on-brand for him these days, as he seems determined to challenge traditional concepts of masculinity. He even wore a dress on the cover for his latest album, Jeffery.
An idea for the name of Young Thug's next album: I Don't Care for Sex!
You can watch the full interview below: