Tesla may punish people who don't pay attention when they're in Autopilot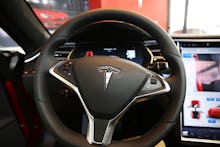 Autopilot is not synonymous with autonomous, and Tesla is going to discipline drivers who don't give the wheel the attention it warrants. 
Tesla is more strictly enforcing its "hold steering wheel" alert in an upcoming software update, according to Electrek, which cites "sources familiar with the Autopilot program." 
As it stands, drivers with Autopilot engaged will receive periodic visual and audible alerts to hold the steering wheel, requiring drivers to apply pressure to the wheel to stop the alerts and keep the feature engaged, according to Electrek. When ignored for 15 seconds, Autosteer will disengage, the music will turn off and the vehicle will slow down until the driver holds the wheel. 
The updated alert system will not be ignored. According to Electrek, if a driver doesn't take the wheel, Autopilot's Autosteer feature will remain disengaged until the driver pulls over and puts the car in 'park.' 
Tesla tightening its restrictions on the Autopilot feature follows a wave of Tesla accidents. It serves as another reminder that Tesla isn't yet ready to give Autopilot full responsibility of the car and its passengers.
"While truly driverless cars are still a few years away, Tesla Autopilot functions like the systems that airplane pilots use when conditions are clear," Tesla Motors said in a blog post last year. "The driver is still responsible for, and ultimately in control of, the car."
Forcing drivers who neglect alerts to tap in every once in a while to pull over could be the slap on the wrist needed to remind them that the machines aren't totally taking over just yet. 
We have reached out to Tesla for comment and will update with any response.