Riz Ahmed of 'The Night Of' tells Stephen Colbert, "This is what British looks like"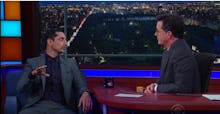 If you have endless questions about the ambiguous ending to HBO's The Night Of, the show's lead, Riz Ahmed, can't tell you much. He didn't during his appearance on The Late Show, at least, since host Stephen Colbert has yet to watch the season finale (no, really, that's the excuse). 
Yet Colbert did note Ahmed's stardom has risen considerably following his recent work in The Night Of, Jason Bourne and, later this year, Rogue One: A Star Wars Story. As a result, the actor is becoming a more recognizable figure, which Colbert segued into his experience being British-Pakistani, and how that's affected him in both the United States and Great Britain. 
"When I was growing up, I felt like I had to qualify it and say I'm British-Pakistani," he said. "But now, I kind of feel like, in this day and age, this is what British looks like: looks like me, looks like Idris Elba. And hopefully through [The Night Of character] Nasir Khan, people will see that that's what American can look like as well." 
Colbert jokingly suggested that would be difficult for Ahmed under a Donald Trump presidency, though the actor did agree with the Republican candidate on the job front.
Ahmed also discussed his budding rap career, under the mantra Riz MC, to which the host requested a few freestyle verses. Ahmed obliged, taking a cheeky jab at embattled Olympian Ryan Lochte in the process: 
Colbert in a black tie, what a sharp gent
Watch Colbert's full interview with Ahmed below.