Teen posing as doctor arrested for posing as doctor again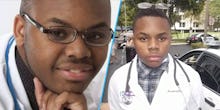 Can't stop, won't stop — Malachi Love-Robinson just can't quit practicing medicine, even though he is a teenager and lacks the requisite license, and even though the long arm of the law keeps trying to hold him back.
The 19-year-old dreamer was arrested for larceny and fraud — posing as a doctor, which he is not — Monday during a previously scheduled court appearance. The self-appointed Dr. Love allegedly racked up between $20,000 and $100,000 in ill-gotten gains, as well as passing a bad check, offenses for which he was thrown in Palm Beach County Jail. 
This is not, however, the first time Love-Robinson has been arrested for posing as a doctor. In February, the Palm Beach County Sheriff's office busted him after his family and friends notified the Florida Health Department that he was a potential danger to the community, according to the Independent.
Love-Robinson opened his own naturopathy clinic in January, where he was administering such dubious treatments as "air therapy." He allegedly swindled elderly patients out of tens of thousands of dollars, and again, there's the pesky issue of him not being a real doctor.
In an interview with ABC, Love-Robinson insisted that he held a PhD and that "there are many types of degrees out there that hold the title of doctor." M.D. — doctor of medicine — is the only one of those Love-Robinson claimed to hold that designates a person as able to practice medicine. To be clear, Love-Robinson is not an M.D. He has, however, "shadowed many doctors," if that helps assuage anyone's concerns.
During February's initial media storm, the Florida teen speculated that the legal drama was not motivated by malpractice or grand theft or practicing medicine without a license, but by other people's envy.
"It's just jealousy," he told Florida's WPBF in February. "Any time anybody has something to say about somebody, it's because they're successful."
Intriguingly, Love-Robinson's arrest on Monday was linked to events that predate his February arrest. According to the Palm Beach Post, his attorney Leonard Feuer was arguing for his removal from the case when Love-Robinson was taken into custody. Apparently, an ethical issue bars Feuer from defending Dr. Love, a task he'd reportedly planned to accomplish by pleading insanity.
Love-Robinson is no longer in jail — he posted an $8,000 bond and walked out Monday, so if past experience is any kind of indicator, it's only a matter of time (minutes? hours?) before he's back out there, healing the people.
Correction: Sept. 4, 2016