Blac Chyna just lashed out at slut-shamers in a nude maternity photo shoot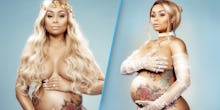 The Honorable Blac Chyna — fiancée of Rob Kardashian, mother of King Cairo, friend of Amber Rose, soon-to-be Kardashian sister-in-law, maker of eyelashes, taker of names — has a lot to say right now. In a new Paper magazine cover story, she posed nude for a set of maternity photos and gave a lovely little quote in defense of her past as a stripper.
"Stripper, slut, ho, all these things people portray us as — we wanted to start a movement, because we're tired of this double standard where a guy can fuck ten bitches and he's the man," she said.
When the interviewer brought up Chyna's appearance at the 2015 MTV Video Music Awards with fellow ex-stripper Amber Rose, in which the duo wore coordinated outfits with misogynistic slurs painted all over them, Chyna explained that it was all about challenging stereotypes and double standards.
 "A woman does it [strips] and she's a ho, she's a slut," Chyna said. "We wanted to push the barrier, to own it... You can say mean things about me, but it doesn't matter, we're still gonna do us ... So what if I was a stripper?"
Chyna's cover story also represented her fulfillment of a key Kardashian rite of passage: the nude Paper photo shoot. Remember when Kim famously broke the internet with one back in 2014?
Of course you do.
A Paper rep told E! News that Kim was actually on the scene during Chyna's shoot to offer guidance and tutelage — sort of like a Confirmation sponsor of sorts!
"[It] was really nice to see her giving encouragement to Chyna and talking to her," the magazine's managing editor Abby Schreiber said.
And her Kardashitransformation is now complete.
You can read the whole Paper story here.