MacBook Pro and Air 2016: Release date and what to expect from Apple's September event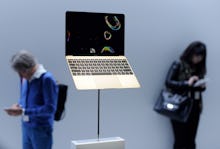 We're counting down to Apple's big iPhone event on Sept. 7 and the release date two weeks later. Even more exciting than the reported iPhone 7 and iPhone 7 Plus is a refreshed line of MacBooks — great news for anyone still working with a slow, outdated laptop. Bloomberg reported we can look forward to a new MacBook Air and a new MacBook Pro, which hasn't been redesigned since 2012.
What to expect
The MacBook Air will reportedly use USB-C ports, like the current MacBooks that did away with all other USB options. If you're buying this, you'll probably want to look into a USB adapter as well.
The 2016 MacBook Pro is expected to be "thinner and lighter," according to 9to5Mac. It'll probably have the super-flat keyboard the current MacBooks now feature. (This keyboard takes some getting used to and isn't as satisfying to type on, in my opinion.)
The new MacBook Pro's flagship feature will likely be something Apple's reportedly calling a Dynamic Function Row — a digital OLED bar above the keyboard whose display changes depending on which apps are open. For example, if Spotify is playing Operation Ivy's "Knowledge," you can tap a digital button to skip to "Sound System," or watch the status of a Transmission torrent download.
Via Bloomberg:
The Safari web browser would enable controls for finding and defining terms, while the iMovie video editor would offer controls for cutting clips and a more-precise volume slider, the people said.
The feature will work on new Mac OS Sierra, which adds Siri capability, Apple Pay and auto-unlock with the Apple Watch to the new computers.
Check out some nifty renderings of the OLED bar at BGR. 
Release date
According to Bloomberg, the new laptops won't ship until October. Time to sell or trade in your current one — you'll probably get a bit more cash for it now.