Soulection's Sango, Esta and more on music's healing power and why it's so needed in 2016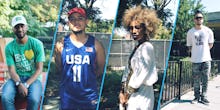 Brooklyn, New York — The view from the DJ booth at Afropunk is one some artists work their entire careers to see. At 5 p.m. Sunday, Soulection's Joe Kay had that honor of watching the sun glow over a crowd of hundreds of brown faces. He dropped "No Problem" by Chance the Rapper, and people began to bounce in unison to the soul-stirring choir samples. The smiles and roars of energy were intoxicating, but also rare.
Afropunk is one of the largest safe spaces for people of color across identities and personal expressions. Their joy and freedom is uplifted and protected. "No sexism," signs around the festival remind attendees. "No racism. No ableism. No homophobia. No fatphobia. No transphobia." 
Outside the gates of Commodore Barry Park in Brooklyn, New York City, of course, the majority of attendees who identify as black, Latinx, LGBTQ and other marginalized groups face a society that tells them everyday their lives do not matter.
This reality has felt disturbingly clear throughout 2016. A U.S. presidential candidate rose to become the Republican party nominee largely by spewing disparaging comments against Muslims, Mexicans, African-Americans and women. The list goes on.
Graphic instances of police brutality hit social media timelines, stirring more protests nationally. In Orlando, a gunman carried out the deadliest mass shooting in modern American history, opening fire at a club filled with LGBTQ Latinx partygoers and killed 49 people in their own sanctuary of fun, love and acceptance. 
We need healing. Music as a medicine is an important part of that. Few artist collectives have been as effective as doing that than Soulection, the keepers of the "Sound of Tomorrow." 
Formed in California in 2011 the artist collective and self-described "digital music and technology startup," Soulection fell into the business of prescribing audible antidotes for their listeners rather unexpectedly.
"I heard people talk about [being] close to suicidal and then turning and finding out about Soulection at a weird moment in their lives and it boosted them," Kay said. "Those are things I would have never imagined; that we would have even 1% of that effect on people."
But its carefully arranged fusion of "future beats, eclectic soul, forgotten gems and timeless sounds," as Kay regularly describes Soulection's sound in his radio show, has won the collective a following of hundreds of thousands on SoundCloud. It books shows at festival stages around the world and broadcasts a weekly Apple Beats 1 show hosted by co-founder Kay. 
Fans discuss its episodes and shows as examples of a continuing movement and a true source of comfort and inspiration.
Although they're the ones making music that's moving people, Mic asked Soulection family members Eden Hagos, Joe Kay, The Whooligan, Esta and Sango to share how music has healed them in their toughest moments. 
The Whooligan, DJ and director of bookings and partnerships
Not to sound biased, [but] when Soulection came around, that was a point in my life when I was at a crossroads. When Soulection came around, it really changed our lives. It really saved us from entering a dark phase. It's like, I've been waiting my entire life to listen to this type of music, and now that I'm able to represent it and put records out and go on the road, it's an honor and such a responsibility.
Joe Kay, Soulection co-founder, host and DJ
When I got kicked out of my mom's house when I was in college. We were just butting heads, and at that moment, Soulection had not even been started yet. We were trying to figure it out, but I knew that I wanted to create my own thing. I wasn't left on the streets; I went to my grandmother's house. And in that moment, that's where everything was founded.
Eden Hagos, DJ and producer
I would say around '09. I was still interested in music and I was trying to figure out how to do that, but I had just finished graduating college. So I moved to San Diego, went back home, and that's when I met Andre Power and other producers and I started going out to beat shows and meeting other like-minded people and people who wanted to teach me. And I started mixing and learning how to spin. 
Esta, DJ and producer
It'll probably be a lot of love songs. But other than that a lot of Little Brother. I love Little Brother. That got me through high school, 'cause I just moved to a new city midway through the year. I was from the Bay Area of California, and then I moved to Southern California again, to a little city where I didn't know anyone.
Sango, DJ and producer
I would say gospel.
Aug. 31, 2016, 7:10 p.m.: This story has been updated.