Meet 'CRWN,' the much-needed new magazine devoted to celebrating natural hair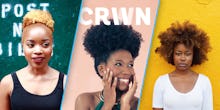 At this year's Afropunk Festival in Brooklyn, New York, people milled about between sets from Ice Cube, Janelle Monáe and TV on the Radio by booths selling jewelry by black artisans or comic books starring black characters. There were shops for soap and African foldable flats and art and candles — something for everybody. But tucked into one booth over the weekend, was something special. In one booth, there were the first few copies of the first issue of CRWN, a lifestyle magazine for natural hair and the women who wear it, up for grabs. 
It might not seem like a radical idea, after all there are magazines devoted to seemingly everything under the sun from cats to yarn, but with stories about natural hair (both the celebration of and attempts to curb it) popping up more frequently than ever, an outlet devoted entirely to the topic feels all the more prescient.
"Our tagline is 'We want to tell your hair story,'' Lindsey Day, CRWN's editor-in-chief, said in an interview. "It's women talking about the process that made them change from perm styles to natural hair. Interviews and pieces about our elders and their hair in a different era." 
At Afropunk on Wednesday, Day's dream publication debuted and is now available for purchase online. The first issue is more than 130 pages of pastel-hued portraits of women with natural hair, as well as essays, career advice, hair tips and product reviews. In the first issue, the forward is penned by activist Michaela Angela Davis, and Whitney White, a natural hair vlogger, stars on the cover.
Up until the last few years, media as a whole and even black media had shied away from talking about natural hair. For example, it took a few years for even Oprah Winfrey to grace the cover of her own magazine with natural hair and when singer Jill Scott appeared on the cover of Essence with natural hair, she made headlines. It wasn't until recently that outlets like Cosmopolitan or Refinery29 started offering natural hair tutorials. So CRWN stands as a testament to our changing times, and the people who are forcing this change along. It also signals that the community had and has a true need. 
The idea for CRWN started with a conversation back in 2014 when Day and Nkrumah Farrar, CRWN's creative director, were sitting around the Crown Heights neighborhood in Brooklyn, thinking about how powerful it was that conversations around black women and natural hair were teetering on the mainstream. 
For generations, natural hair within the black community was a topic of conversation between girlfriends or mothers and daughters, but not so much public. Now, they noticed, there were natural hair tutorials on YouTube, where women on the internet were exchanging tips and tricks, and on digital forums and blogs as well. The internet had given these women a platform to talk about their hair. 
"You have these very intimate cultural exchanges between women who are thousands of miles apart but they're exchanging as if they're sitting right next to each other in a living room," Farrar said in an interview. "Any time you have that deep of an interaction over digital, you know you have something there to build from."
What they wanted to do build was a magazine that memorialized this moment and capitalized on it, offering people who have natural hair or are just interested in it yet another platform for information and joy. 
It took a while because they wanted it to be perfect, for themselves and for their community. For years, Day had seen her culture's hairstyles mocked and even appropriated, so she wanted the magazine to not only be a celebration of the power and beauty of natural hair, but of the power and beauty of black women as well.
"Just from my personal experience growing up, you go purchase your products in an ethnic aisle," Day said. "You flip through a magazine and don't see yourself. All these micro-agressions against your existence can make you feel like you don't matter as much. That what you say doesn't matter as much. But one of my goals is for a young woman or grown woman opens [the magazine] up and sees herself and says, 'Hey, I could own a production company or maybe I could travel the world.'" 
According to CRWN's creators, the magazine's aesthetic of a lot of pinks, vibrant colors and muted hues, stands in stark contrast to how many black women are portrayed by the media today when they have no control of their image (Beyoncé, for example, is an exception) — and that's no accident. 
"When black women are presented to the world, the images are hypersexualized," Farrar said. "There's always drama between interactions. We worked really hard to find the smartest women we could find to write essays for the magazines to show that no, not all black women are the same. At all."  
Although natural hair conversations are being had on a national level, from a woman standing up to ask Hillary Clinton about it at a town hall to a model walking down the Victoria's Secret runway with natural hair, it's not like women with natural hair are regularly being celebrated. In fact, there are still regular stories about young women getting reprimanded because of their hair. 
Like that time an eighth-grader in Toronto was called to the principal's office because her hair was "too poofy," or the time that a 12-year-old girl in Florida was threatened with expulsion because of her natural hair, or how in South Africa, a group of schoolgirls are protesting for their right to wear natural hair. There's still a stigma around natural hair, and that may stem from, in part, years and years of black women being forced to look one way in particular. 
"In many respects for women to wear their hair natural was a rebellious act, at least in our mother's time, and it is even now," Farrar said. "It was a big deal to wear natural after only pressing your hair for so long. But today, it's more about loving yourself and expressing your own. There's that option." 
At an event commemorating the magazine's launch at Afropunk, pages of the first issue were hung around a room for guests to crowd around. Their reaction was exactly what Farrar and Day were looking for.
"We did an exhibition of the magazine on a wall and we just watched women walk up to this content," Farrar said. "Each one of them found a different piece to connect with and found themselves in a different piece in content. By making the women in the magazine so diverse, by flipping through, you can see your mom or sister." 
"I want women to open the magazine and see themselves and see the power," Day said. "There's one other quote by Maya Angelou that we use in the magazine and it's, 'I come as one, I stand as 10,000.' So you may feel like you're alone when you walked into your corporate office. You feel alone a lot of the time when your culture isn't understood or represented. We want them to feel like these are our people and we can do so much more together than by ourselves." 
Two years ago, Day and Farrar had an idea. Now, they have a magazine that exists to celebrate natural hair in all its glory. 
"There's this idea that a woman's hair is her crowning glory," Farrar said. "But more important than that, your crown is what signifies your status as a royal. We're engaging women at their crowns. We don't just want to speak to your vanity, we want to speak to your heart and engage your mind."