Here's what's coming to (and leaving) Hulu in September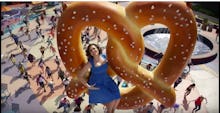 While Hulu is, unsurprisingly, providing a lot of new movies and TV series to its slate for September — along with the season premieres of several network shows — the month will likely be remembered for its purge. Not the sociopolitical Purge movies, but rather, a purge of several series from the CW, which will start a new, multi-year deal with Netflix. 
Sadly, then, September will be the last month Hulu users will be able to enjoy some of the CW's original shows, like Crazy Ex-Girlfriend, The Flash, iZombie and Jane the Virgin. In other words, if you're a Hulu-only user who's been waiting to binge-watch a CW show, do it before Sept. 18. 
Below, you can check out the rest of what Hulu has to offer for September, and some of the other titles that will soon depart. 
Coming to Hulu in September:
September 1
1984 
2001 Maniacs 
American Psycho 
American Psycho 2 
At Close Range 
Autopsy
Body Of Evidence
Borderland
Breakheart Pass 
The Broken 
Buried 
Butterfly Effect 3: Revelations
Code of Silence
Crazy Eights
Crocodile Dundee 
Crocodile Dundee II 
Dark Ride
The Deaths of Ian Stone 
The Devil Inside 
Dirty Rotten Scoundrels
Double Jeopardy 
Dying Breed
Eight Men Out
Fido 
The First Wives Club
Four Feathers 
The French Lieutenant's Woman
From Dusk Till Dawn
From Within
Fun Size 
Futureworld 
Get Shorty 
Hair 
Happily N'Ever After
Happily N'Ever After 2
Heaven's Gate 
The Honkers 
The Ides of March
Imagine That 
Invasion of the Body Snatchers 
Jeff Who Lives at Home 
Lake Dead 
Larger Than Life 
Leaving Las Vegas 
Like Water 
The Mechanic 
The Messengers 
Mr. Majestyk 
Mulberry Street
Night Falls on Manhattan 
Nightmare Man 
Offspring
The Others 
The Purple Rose of Cairo
Red Corner
Red Dawn
Reincarnation 
Roman Holiday
Saved! 
Scary Movie 2
Scary Movie 3
The Secret Of N.I.M.H.
Slaughter
The Spiderwick Chronicles
The Talented Mr. Ripley
The Thaw 
Theater of Blood 
Unearthed 
United States of Leland
Voices
The Wood 
Young Adult
September 2
Scouts Guide to the Zombie Apocalypse 
September 3
Paranormal Activity: The Ghost Dimension
September 5
Love & Hip Hop: Hollywood, season 3 premiere
September 7
Unlocking the Truth, season 1 premiere
September 9
Basic Instinct 2: Risk Addiction 
September 10
Knock Knock
W.
September 11
La Banda, season 2 premiere
September 12
Drillbit Taylor
Son of Zorn, series premiere
September 13
Dancing With the Stars, season 23 premiere
El Color de la Pasion, series premiere
Ink Master, season 8 premiere
September 14
Rica Famosa Latina, season 4 premiere
South Park, season 20 premiere
September 15
Blindspot, season 2 premiere
Bridget Jones: The Edge of Reason
Bridget Jones's Diary
September 16
Stop-Loss 
September 17
The Beatles: Eight Days a Week — The Touring Years
Captive 
September 18
The Challenge, season 28 premiere
September 20
Gotham, season 3 premiere
Lucifer, season 2 premiere
The Good Place, series premiere
The Voice, season 11 premiere
Serena 
September 21
Brooklyn Nine-Nine, season 4 premiere
Marvel's Agents Of S.H.I.E.L.D, season 4 premiere
New Girl, season 6 premiere
Scream Queens, season 2 premiere
This Is Us, series premiere
September 22
Black-ish, season 3 premiere
Chicago Med, season 2 premiere
Chicago P.D., season 4 premiere
Designated Survivor, series premiere
Empire, season 3 premiere
The Goldbergs, season 4 premiere
Law & Order Special Victims Unit, season 18 premiere
Lethal Weapon, series premiere
Modern Family, season 8 premiere
Speechless, series premiere
September 23
Grey's Anatomy, season 13 premiere
How to Get Away With Murder, season 3 premiere
Notorious, series premiere
Pitch, series premiere
Rosewood, season 2 premiere
Superstore, season 2 premiere
Sicario
September 24
Caught on Camera With Nick Cannon, season 3 premiere
The Exorcist, series premiere
Hell's Kitchen, season 16 premiere
Last Man Standing, season 6 premiere
Shark Tank, season 8 premiere
Heist 
September 25
Robot Chicken, complete season 8
September 26
Bob's Burgers, season 7 premiere
Family Guy, season 15 premiere
The Last Man on Earth, season 3 premiere
Loosely Exactly Nicole, series premiere
Mary + Jane, series premiere
Once Upon a Time, season 6 premiere
Ridiculousness, complete season 7
Secrets and Lies, season 2 premiere
The Simpsons, season 28 premiere
September 30
Wolf 
Leaving Hulu in September:
September 18
The 100
Arrow
Beauty and the Beast
Containment
Crazy Ex-Girlfriend
DC's Legends of Tomorrow
The Flash
iZombie
Jane the Virgin
The Originals
Reign
Supernatural
Vampire Diaries
September 30
Disturbing Behavior 
Wicker Park
Clerks 
Beverly Hills Cop