John Legend expertly shuts down critics of Colin Kaepernick protesting the national anthem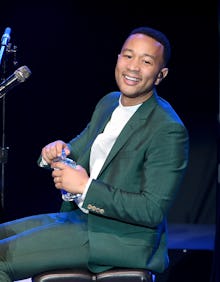 John Legend weighed in on NFL player Colin Kaepernick's controversial decision to protest the national anthem during football games. 
The R&B artist, who seems to thoroughly enjoy giving trolls a good read, asked Twitter users on Tuesday for their genuine thoughts on the anthem. He suggested that the country's deep-seated racism and inability to provide "freedom, liberty and justice for everybody" — as Kaepernick has explained his protest — is present in the song as well.
"For those defending the current anthem, do you really truly love that song?" Legend asked, before lightheartedly gloating: "I don't and I'm very good at singing it. Like, one of the best."
"My vote is for 'America the Beautiful,'" Legend continued. "'Star Spangled Banner' is a weak song anyway. And then you read this ..." linking to an article from the Intercept, which looks at the story behind Francis Scott Key's "Star Spangled Banner." 
The article points to the verses of the song typically removed from performances, pinning the anthem as a celebration of slavery:
"No refuge could save the hireling and slave
Key, who was a slave owner himself, celebrates within the song the United States' successful attempt to kill freed slaves at the Battle of Fort McHenry during the War of 1812, the Intercept claims. So while the song is an ode to the strength of America's military, viewed this way it's also a slap in the face for citizens whose ancestors were brought here in captivity, freed and then killed by U.S. troops. 
It seems the entire world has something to say on the football player's choice to sit down during the national anthem. Republican presidential nominee Donald Trump has said Kaepernick did a "terrible thing" and "should find a country that works better for him."
But Kaepernick has stood strong in his protest, telling NFL Media in an interview Saturday, "I am not going to stand up to show pride in a flag for a country that oppresses black people and people of color."